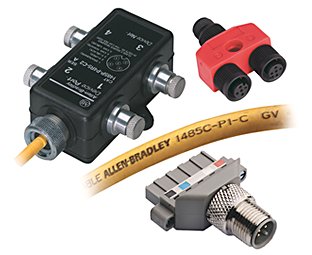 Our thick and thin round cable (generally used for trunk and drop cable, respectively) are available in bulk spools or pre-molded cordsets or patchcords. We offer a wide variety of rugged, durable connectivity components for use in round cable systems. These components include T-ports, DeviceBox™, DevicePort™, PowerTap™ and a multitude of other accessories. Stainless steel versions of round cable system components are also available for harsh industrial applications.
Polyvinylchloride (PVC) jacket resists oil and chemicals

Watertight connections (NEMA 4, 6P; IP67)

Gold plated contacts

Ratcheting coupling nut resists vibration
Certifications apply when product is marked. See our Product Certification site for Declarations of Conformity, certificates and other certification details.