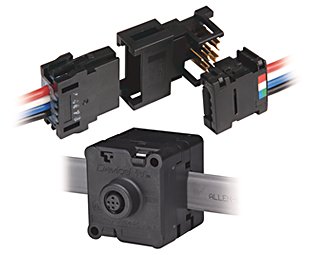 Our KwikLink™ flat media system provides a simple, modular cabling method with its flat four-wire cable and Insulation Displacement Connectors (IDCs). Designed to provide up to 50% savings in installation costs by offering a drastic reduction in labor and materials, the KwikLink system lets you add nodes to the network without severing the trunkline. Cutting or stripping of the trunkline is eliminated, as is the need for predetermined cable lengths. KwikLink offers maximum simplicity while still supporting 64 nodes. A full complement of accessories is available for the KwikLink flat media system.
Physical key to ensure proper connection alignment

Sized to fit inside 1-in. conduit

Highly pliable polyvinylchloride (PVC) jacket material
Certifications apply when product is marked. See our Product Certification site for Declarations of Conformity, certificates and other certification details.