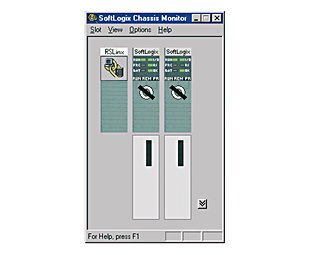 Our SoftLogix™ 5800 control system version 23 (Bulletin 1789) has entered active mature product lifecycle status.
The product remains active and available for sale and telephone technical support remains available. However, the SoftLogix 5800 control system version 23 will have no additional feature enhancements or PC operating system updates. Current users of this product placing additional orders agree that they understand and accept that no further features or operating system updates are planned.
Rockwell Automation will continue to collect, track and evaluate user submitted anomalies however any anomaly corrections and/or patches should not be expected.
Rockwell Automation recommends using the ControlLogix control system family of products which now includes an expanding line of in-chassis compute modules to allow for programming flexibility and multiple communications options.
Runs on Windows® 7 and Windows Server 2008 operating systems
Uses the same Studio 5000® environment and Logix control engine as other Logix platforms
Includes platform independence (whitebox, industrial computer, etc.).
Provides connection to open networks, including EtherNet/IP™, ControlNet™, and DeviceNet™
Offers customization of data access, virtual backplane toolkit for integration of third party networks or specialty modules
Supports multiple I/O interfaces
Provides ability to develop custom C programs to integrate via external routines
1789-L10 SoftLogix™ Controllers
One controller
Memory size limit of 2 MB per controller
Two PCI network interface cards
One EtherNet/IP card
One 1784-SIM module
No third-party virtual backplane module support
Three-slot virtual chassis
1789-L30 SoftLogix Controllers
Two controllers
Memory size limit of 64 MB per controller
Five PCI network interface cards
One 1784-SIM module
Third-party virtual backplane module support
Five-slot virtual chassis
1789-L60 SoftLogix Controllers
Six controllers
Memory size limit of 64 MB per controller
16 PCI network interface cards
16 1784-SIM modules
Third-party virtual backplane module support
16-slot virtual chassis
| Resource | Publication Number | Language |
| --- | --- | --- |
| Integrated Architecture Brochure | IA-BR005 | |
| SoftLogix5800 System User Manual | 1789-UM002 | |