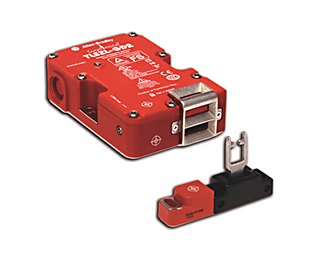 Our TLS-Z GD2 Guard Locking Switch is an interlock switch that has a uniquely coded RFID door sensor with inductive door position sensing technology. This switch can detect if an actuator key breaks or becomes separated from its door-mounted position. Built with the same solid-state technology as the TLS GD2, this switch supports the highest level of safety – Performance Level "e" (PLe) to EN ISO 13849-1.
Meets PLe to ISO 13849-1
Solid-state OSSD outputs series connectable to ISO 14119
RFID uniquely coded door target
Available in Power to Release or Power to Lock models
Easy QD connection
Same mechanical arrangement as standard 440G TLS-GD2 guard locking switch 
High locking force ≤2000 N (450 lbf)
Additional Information
Protect your people, productivity, and environment with our Safety Components and integrated Safety Solutions. We understand your factory floor challenges and can help you meet your goals with one of the broadest safety portfolios in the industry.
| Resource | Publication Number | Language |
| --- | --- | --- |
| Safety Switches Brochure | GLSAFE-BR002 | |
| TLS-Z GD2 Safety Guard Locking Switches Product Profile | 440GZ-PP001 | |
Certifications
CE Marked for all applicable directives
cULus Listed
TÜV Certified
Safety Classification
Type 4 interlocking device with guard locking per ISO 14119 
High (unique) coding per ISO 14119
PLe Cat 4 per ISO 13849-1
Functional Safety Data (related to Safety Contacts)
PFHD  1.70E-09 Probability of dangerous failure per hour according to EN/IEC 61508 or EN/IEC 62061 (Continuous and High demand mode)
Dual channel interlock may be suitable for use in application up to PLe (according to ISO 13849-1) and for use up to SIL 3 systems (according to IEC 62061) depending on application characteristics.
Mission time/PTI: 20 years or 106 cycles
Standards Compliance
ISO 14119
IEC 60947-5-3
ISO 13849-1