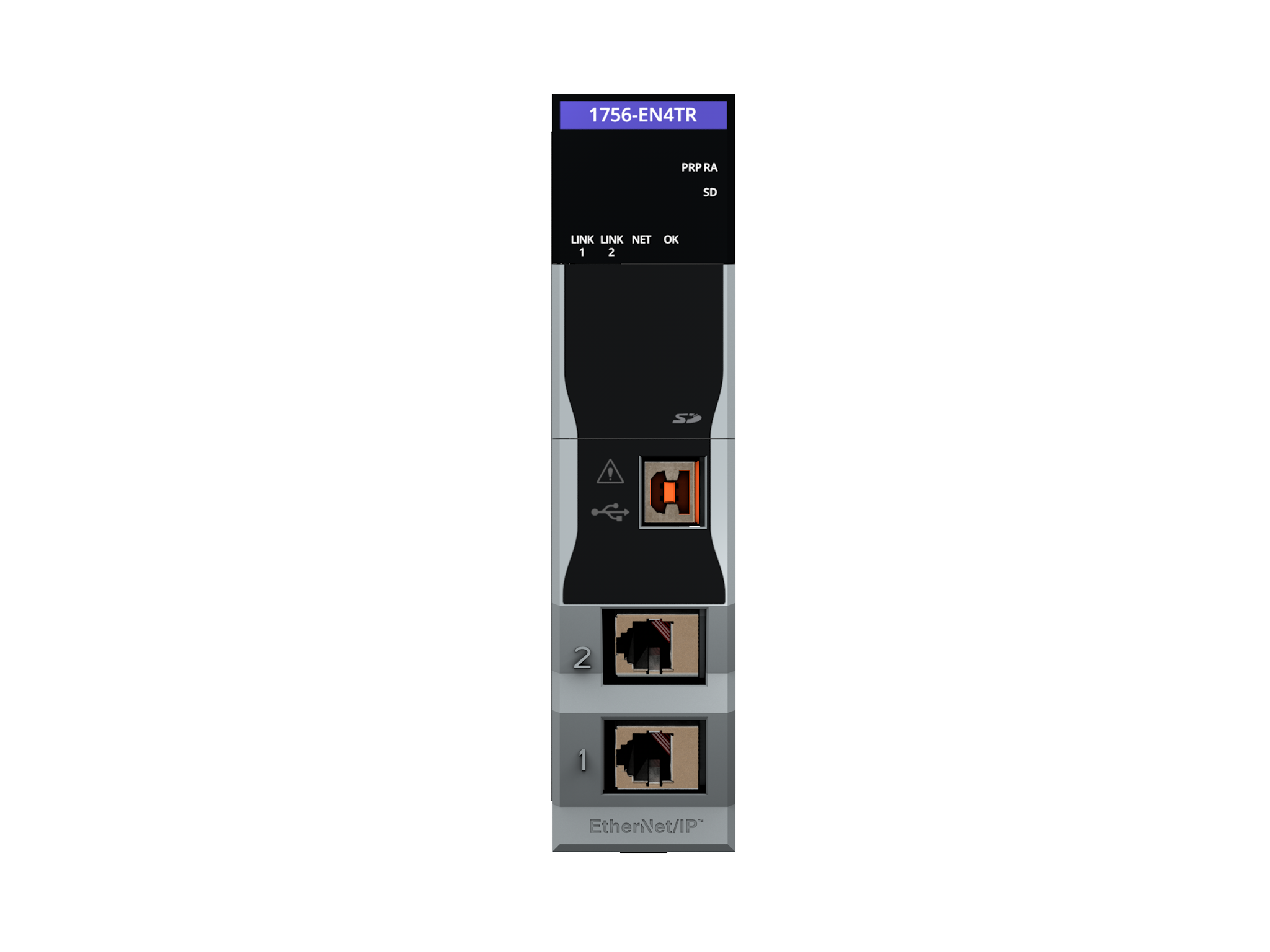 Our ControlLogix® system uses connections to establish communication links between devices. Our Bulletin 1756 Chassis-based communication modules help make those connections and implement network-based access control for users, devices, and networks in the 1756 chassis. We offer a variety of modules that support EtherNet/IP, DeviceNet, ControlNet, and other network protocols.
1756 EtherNet/IP Communication Modules

Offers CIP Security protocol via EN4TR and EN4TRXT communication modules

Provides real-time I/O messaging and message exchange

Uses off-the-shelf Ethernet communication chips and physical media

Supports 128 or 256 Logix connections

Offers embedded switch technology capabilities

Supports extreme environments via ControlLogix-XT™ communication modules

Offers secure connectivity from the control system to upper level systems, programming terminals, and other ControlLogix controllers using the secure communications module

Provides Device Level Ring (DLR) connectivity to allow devices to form a ring topology to provide resiliency

Offers Parallel Redundancy Protocol (PRP) support for a completely redundant network infrastructure
1756 DeviceNet Communication Modules
Uses the Common Industrial Protocol (CIP) to control, configure, and collect data for industrial devices

Provides connections between simple industrial devices (sensors and actuators) and higher-level devices (controllers and computers)

Supports 64 nodes
1756 ControlNet Communication Modules
Uses the Common Industrial Protocol (CIP) to combine the functionality of an I/O network and a peer-to-peer network that provides high-speed performance for both functions

Provides open, control network for real-time, high-throughput applications

Offers deterministic, repeatable transfers of all mission-critical control data

Supports transfers of non-time-critical data

Supports 64 or 128 Logix connections and 99 nodes

Offers extreme environment support
1756 Data Highway Plus™ and Remote I/O Communication Modules
Supports messaging between devices

The remote I/O link connects to remote I/O chassis and other intelligent devices

Remote I/O functionality enables the module to act as a scanner for transferring digital and block-transfer data to and from remote I/O devices

Supports 32 Logix connections

Support messaging between devices on DH+™ network
1756 SynchLink Communication Modules
Provides time synchronization and data broadcasting for distributed motion and coordinated drive control

Connects a ControlLogix chassis to a SynchLink™ fiber-optic communication link

Allows the controller to consume motion axes data from a controller in another chassis
Conformal Coating
Conformal coating is now available on select ControlLogix® products to help protect your automation systems from hostile and harsh environments. Rockwell Automation tested these products for the equivalent of 10 years in an ISA G3 Group A classified environment. These products are identified by the "K" suffix in the catalog number and they
Help to protect circuitry against exposure to pollution, moisture, temperature variation, salt spray, organic attack (fungus), and aggressive chemicals and vapors

Offer improved product life cycle when exposed to corrosive environments by maintaining long-term surface insulation resistance (SIR) ensuring operational integrity of the assembly
Additional Information
Industrial Automation and Control Systems — Our systems help provide the integration of control and information across the enterprise that enables our customers to optimize their operations by connecting the plant, site, facility, and people.
Certifications
CE
ControlNet International
CSA
cULus
DeviceNet
EAC
EtherNet/IP
Ex
FM
IECEx
KC
RCM
Note: Certifications vary by communication module type. See publication 1756-TD003 for details.
Certifications apply when product is marked. See our Product Certification site for Declarations of Conformity, certificates and other certification details.