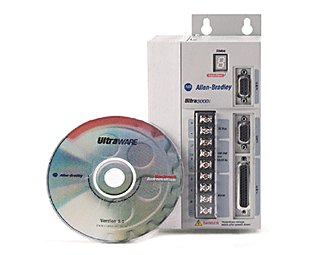 Communicates with Ultra™ 1500, Ultra™ 3000, Ultra™ 5000 and Kinetix® 3 servo drives using the serial port on your PC
Lets you define motion capabilities by selecting the operating modes or the motion functions in your servo drives
Configuration capability that lets you commission and program your system offline
Powerful, field-tested productivity tools including built-in oscilloscope, on-screen meters and tools for rapid debugging and measurement
Monitors a wide variety of status and motion parameters on your drives
Supports standard ANSI C programming (Ultra5000 drives only)
Compatible with Windows® 95, Windows 98, Windows 2000 and Windows NT operating systems
Certifications apply when product is marked. See our Product Certification site for Declarations of Conformity, certificates and other certification details. 
Configuration & Selection Tools
CrossWorks — Convert competitive catalog numbers to similar Allen-Bradley® products.
ProposalWorks — Build complete quotes and proposals.
Other Resources
Knowledgebase — Visit our online resource for technical information, support chat and forums, software updates, and product safety advisories/notices.