USAID Higher Education Partnership Initiative (HEPI) project, implemented by Arizona State University, signs a Memorandum Of Understanding (MOU) with Rockwell Automation in a four-year commitment to implement advanced STEM programs and build strong pathways and partnerships between Indonesian and U.S. universities and industry.

Rockwell Automation will provide hardware, software and engineering hours in support of the design and construction of smart manufacturing laboratories at Universitas Hasanuddin, Binus University, and Institut Teknologi Bandung.
JAKARTA, Indonesia – Rockwell Automation, a global leader in industrial automation and digital transformation, signed an MOU on May 5th with the USAID HEPI project.  The organisations share a vision to advance Indonesian Science, Technology, Engineering and Math (STEM) higher education. Under the terms of the MOU Rockwell Automation will provide hardware, software, and training support to develop advanced automation teaching labs at Indonesian universities.  These labs will help to prepare students for in demand careers with Indonesian manufacturers.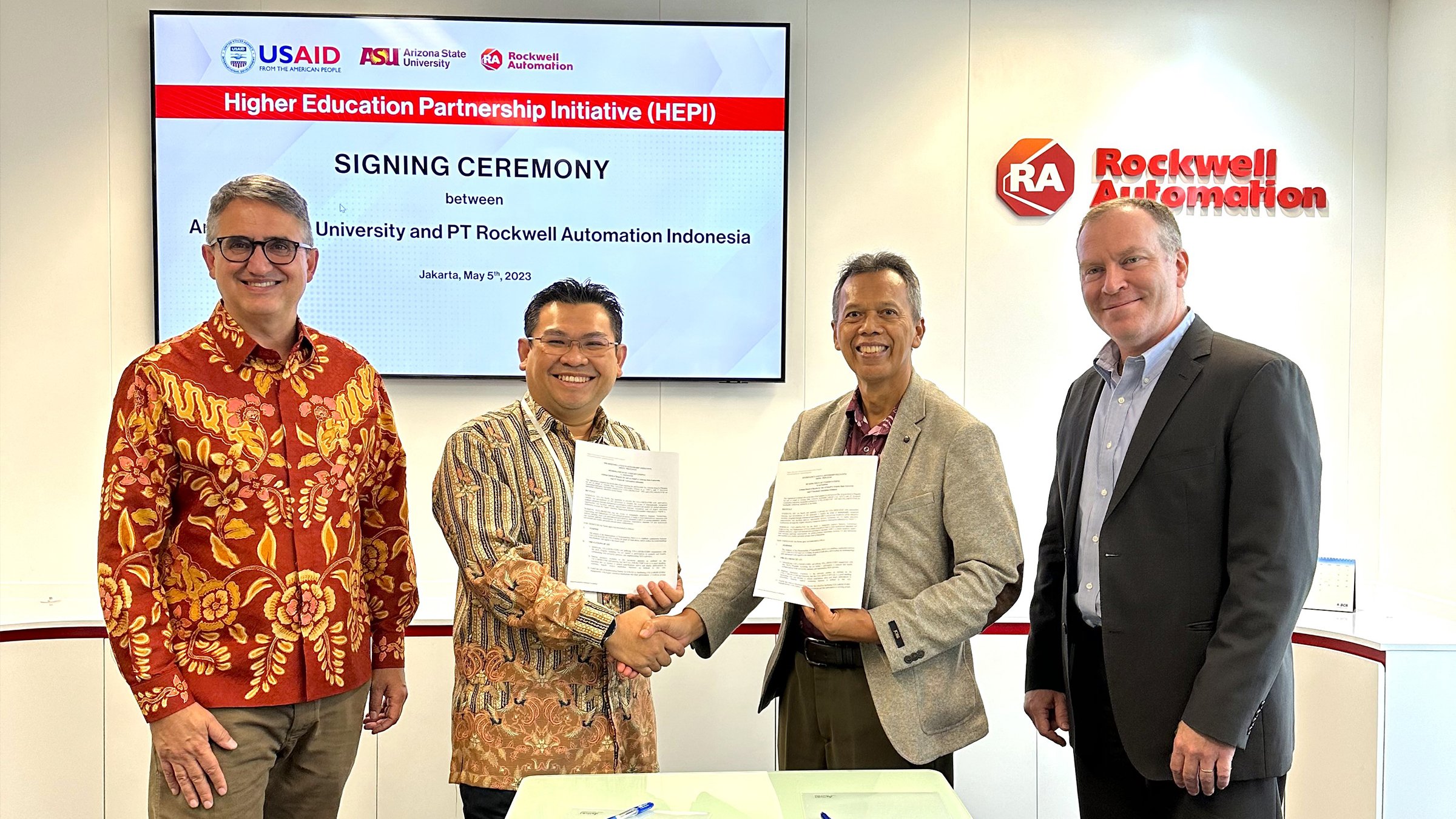 "We are very excited for Rockwell Automation to join USAID HEPI in helping advance Indonesia's STEM capabilities," said Farhad Ghaussy, Economic Growth and Education Office Director at USAID Indonesia. "The connections we are creating between Indonesian and American universities and private sector partners will help Indonesia's effort to build a workforce with advanced technology skills."
The USAID HEPI project team will work closely with Rockwell Automation engineers to co-design and implement the teaching labs with HEPI mentor hub university partners, including Universitas Hasanuddin (UNHAS), Bina Nusantara University (BINUS), and Institut Teknologi Bandung (ITB).
"This is an exemplar model of a public-private partnership developed through the HEPI project, said Jeffrey Goss, Associate Vice Provost, Southeast Asia for Arizona State University, implementing partner for HEPI. "Now faculty can engage students with industry-linked applied hands-on learning activities that support work-readiness on Rockwell Automation's leading technology."
Rockwell Automation's technologies are critical assets used by manufacturers across Indonesia.  Hands-on access to and training on these smart manufacturing technologies will better prepare university graduates for the digital transformation happening across many industrial sectors in Indonesia.
"Rockwell Automation has been working with USAID and Arizona State University, since 2018 to advance STEM education in the ASEAN Region. This has included faculty training, student competitions, and the development of advanced teaching and research labs. Now, through the HEPI project, we are bringing these capabilities and opportunities to Indonesia," said Marcelo Tarkieltaub, Regional Director Southeast Asia, Rockwell Automation.
Once the HEPI university hub partners stand-up these labs and programs, more than 20 additional Indonesia-affiliated university partners are expected to explore the opportunity to expand the program further to more students throughout Indonesia.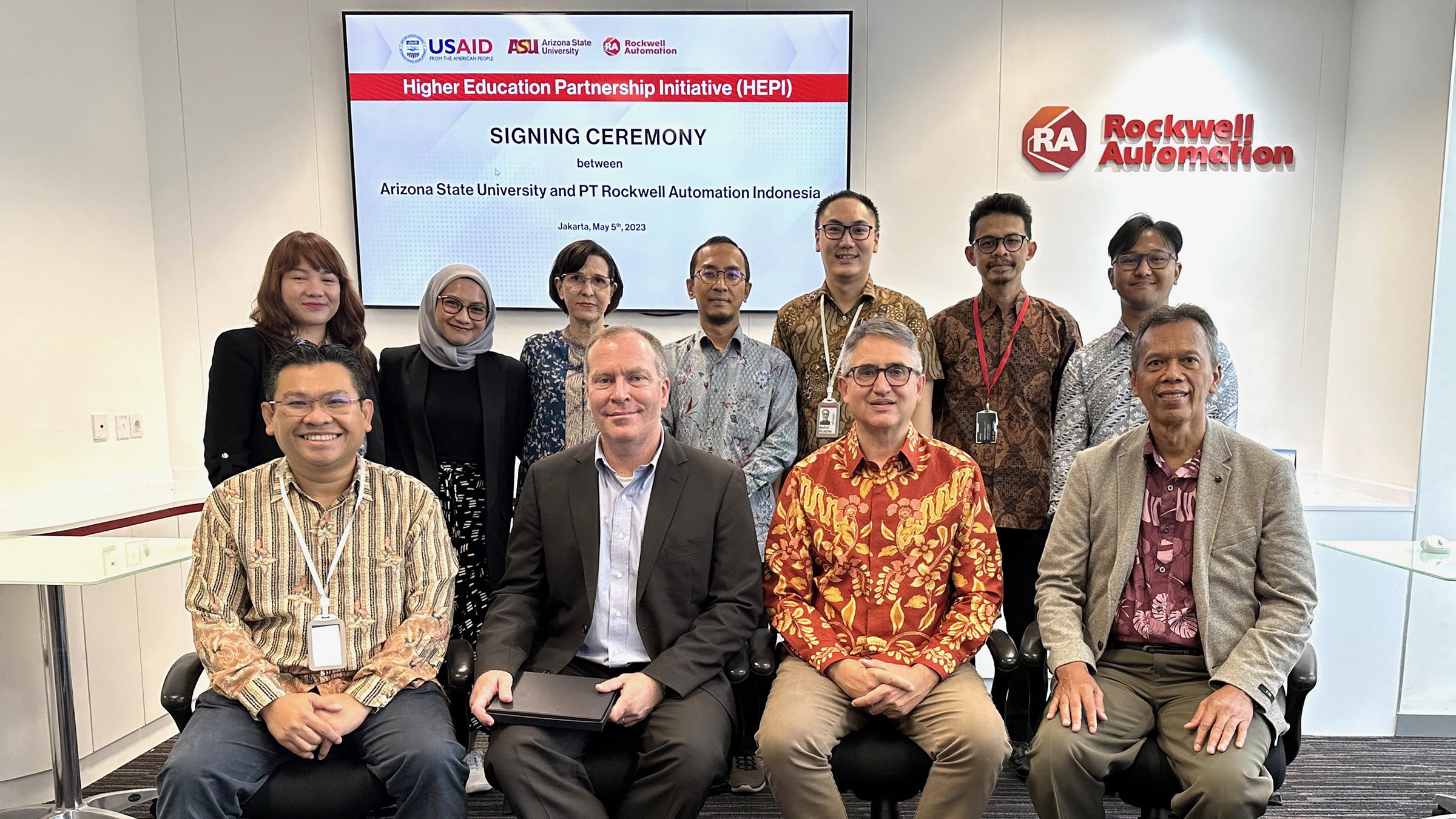 About HEPI
HEPI is a U.S.-Indonesian partnership that connects US universities to quality Indonesian academic programs, enacting partnership models for joint degrees between Indonesian and US programs, US-based education and study abroad experiences, transfer to US degree programs, and enrollment in US graduate programs. The HEPI partnerships enhance student critical skills and competencies through high-quality internationally recognized degrees and industry credentials and provide global education experiences for students.
In partnership with world-class U.S. universities and the private industry sector, Indonesian universities will offer internationally recognized, market-driven programs with high-quality curricula and modern pedagogy, and will produce graduates with higher-level qualifications and stronger technical as well as professional and problem-solving skills, skills to satisfy industry demand. Graduates are prepared to be hired in positions related to their fields of study following degree completion.
About Arizona State University
Arizona State University was ranked #1 Most Innovative University in America by U.S. News & World Report for eight consecutive years. With over 140,000 students, ASU is the largest comprehensive public research university in the U.S. measured not by whom it excludes, but rather by whom it includes and how they succeed; advancing research and discovery of public value; and assuming fundamental responsibility for the economic, social, cultural, and overall health of the communities it serves.
About Rockwell Automation
Rockwell Automation Inc. (NYSE: ROK), is a global leader in industrial automation and digital transformation. We connect the imaginations of people with the potential of technology to expand what is humanly possible, making the world more productive and more sustainable. Headquartered in Milwaukee, Wisconsin, Rockwell Automation employs approximately 28,000 problem solvers dedicated to our customers in more than 100 countries. To learn more about how we are bringing the Connected Enterprise to life across industrial enterprises, visit www.rockwellautomation.com