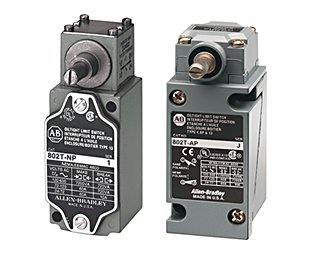 Our Bulletin 802T Oiltight Limit Switches provide heavy-duty pilot ratings, small size, a high degree of versatility, and a rugged NEMA Type 13 oiltight construction. Plug-in and non plug-in styles are available. Plug-in limit switches have a head and switch body that can be replaced while leaving the wiring chamber base in place. This reduces your down time by eliminating the need for rewiring upon switch replacement.
Front mount for simplified mounting

Plug-in and non plug-in styles available

Plug-in styles available for ease of wiring

Rugged construction

Proven reliability
Certifications
CE Marked for all applicable directives 
CSA Certified
UL Listed
Certifications apply when product is marked. See our Product Certification site for Declarations of Conformity, certificates and other certification details. 
Typical applications for the Oiltight Limit Switches include:
Conveyor systems

Transfer machines

Automatic turret lathes

Milling and boring machines

Radial drills

Other high speed production equipment
Essential Components Case Studies — View our case studies site to discover how customers have applied Allen-Bradley components in their applications.