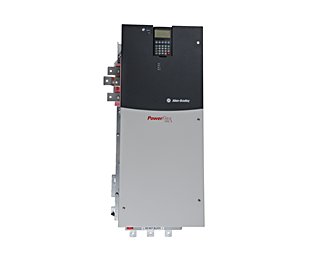 Our PowerFlex® 700L AC Drives offer either PowerFlex 700 Vector Control or PowerFlex 700S Control on a fully regenerative, liquid-cooled power structure. This powerful combination offers great performance and high-power capabilities in a small package along with energy savings and low harmonics. The PowerFlex 700L AC Drives are flexible, high-performance drives available in panel mount and cabinet mount versions.
Power Ratings

380…480V: 445…..860 kW / 600 … 1150 Hp / 650 …. 1250 A

IP20, NEMA Type 1 (Frames 3A, 3B) with Rittal enclosure that includes the input circuit breaker

Available with the PowerFlex® 700 or PowerFlex 700S control

Common Industrial Protocol (CIP™) communications including DeviceNet™, ControlNet™, and EtherNet/IP™

Regenerative braking for precise, high-response speed and position control, continuous holdback, rapid deceleration and stopping of high inertia loads

Regenerative braking puts energy back into the system to be used by other equipment

Patented liquid-cooled heatsink design

Low AC line harmonics with active converter to meet IEEE-519 and CE regulations

Integrated active converter and line-side filter allow input voltage boost while maintaining consistent system performance

Optional DriveLogix™ embedded control for application programmability and control of auxiliary functions

Configuration and programming via optional integral LCD keypad, remote keypad, or software

Premier Integration with PowerFlex AC drives uses the Logix control platform to simplify parameter and tag programming and reduces development time
Available Safety Options
Safe Torque-Off option (with 700S control) is certified at PLd/SIL2 Cat 3. Removes rotational power to the motor without removing power from the drive for faster start-up after a demand on the safety system. All safety options are available as a kit for user installation
Additional Information
Learn how the information from our portfolio of Intelligent Motor Control can position you to make better operating decisions, improve system performance, and gain operation efficiencies.

Our Integrated Architecture Solutions provide the foundation to drive plantwide optimization efficiently and effectively, enabling you to respond competitively to the economy and changes in consumer demand.
Protect your people, productivity, and environment with our Safety Products and integrated Safety Solutions. We understand your factory floor challenges and can help you meet your goals with one of the broadest safety portfolios in the industry.
Rockwell Automation announces that as of June 30, 2022, our PowerFlex 700L frame 2 drives and the frame 3, 600/690V, full cabinet versions of the drive are discontinued and no longer available for sale.  We recommend migration to the PowerFlex 755T family to meet your application needs.
| Resource | Publication Number | Language |
| --- | --- | --- |
| Integrated Architecture Brochure | IA-BR005 | |
| PowerFlex Family of Low Voltage AC Drives Brochure | PFLEX-BR008 | |
Certifications
ABS

CE Marked

C-Tick




cUL Listed

IEC (Designed to Meet)

KCC

TÜV FS ISO/EN13849-1 (EN954-1) with PowerFlex 700S control (For drives manufactured before September 25, 2020)




UL Listed