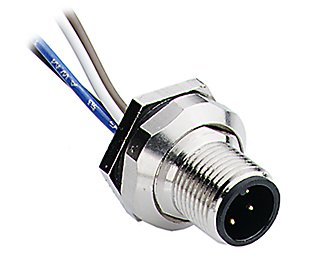 Our Bulletin 888 DC Micro (M12) Panel Mount Receptacles are die-cast connectors ideal for use in enclosures or for creating custom wiring configurations. Their modular design provides panel-mount capability, helps keep things neat and organized, and allows simple replacement in areas where cables are likely to be damaged or replaced frequently.
Popular Resources/Quicklinks
Connectivity & Network Media Brochure
Cordsets & Field Attachables Technical Data
Includes standard 12-inch lead (additional lengths available)

Offers single keyway

Includes anodized aluminum shell

Includes 22 AWG conductors

Includes female and male bulkhead receptacles

Offers 3-, 4-, 5-, or 8-pin configuration

Offers 1/4 in., 1/2 in., M14, or PG 9 mounting threads

Offers rear mount receptacles available in 3-, 4-, and 5-pin configuration

Includes I.E.C. color code
Certifications
CSA Certified

UL Recognized
Certifications apply when product is marked. See our Product Certification site for Declarations of Conformity, certificates and other certification details.