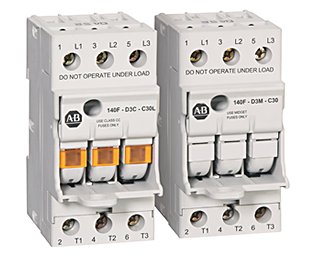 Bulletin 140F Fuse Holders are available for UL Class CC or Midget Fuses and IEC 10 x 38 mm fuses, with or without blown fuse indication. They are lockable in the open position and compatible with Bulletin 140M accessories.
Compact busbar and connectors for Bulletin 100-C and 100-K contactors

One N.O. or N.C. auxiliary contact—late-make N.O., early-break N.C.
Certifications apply when product is marked. See our Product Certification site for Declarations of Conformity, certificates and other certification details.