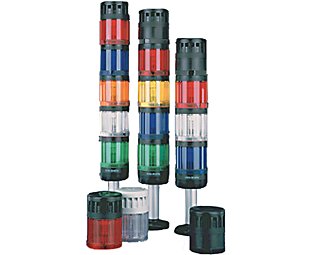 Our Bulletin 855 Control Tower™ Stack Lights provide multi-status indication of your application. They are available in three sizes with UL Type 4/4X/13, IP65 ratings, to meet the most challenging panel and on-machine applications. We have a wide variety of light and sound functions, colors, voltages, and mounting options. We offer stack lights as separate light and sound modules or pre-assembled for greater flexibility.
Available in 30 mm, 50 mm, and 70 mm sizes

Steady and flashing status indicator light modules

Continuous or pulsing piezo sound modules

Stacking configurations 1…5 modules high

Multiple mounting options

Top-mounted terminal blocks on all bases

DeviceNet bases available 

Rockwell Automation announces that as of June 30, 2021, our Bulletin 855F 70 mm pre-assembled tower light will be discontinued and no longer available for sale.
To support your transition, we recommend migrating to our Bulletin 856T product line. The 856T product line is a functional replacement that offers new and modern LED technology and can control up to seven levels in the same stack arrangement. It also offers more flexible mounting options than our current 855F product line.
855T Transducer-style Sound Modules
Our sound modules are available in up to 15 tones, with adjustable volume, frequency, and speed. To hear an option, select any tone from the table below.
Product Comparison
 

Compact Control Tower™ Lights

Control Tower™ Lights

Bulletin

855D

855F

855E

855T

Size

30 mm

70 mm

50 mm

70 mm

Environmental Ratings

UL Type 4/4X/13, IP65
Indoor and outdoor use

UL Type 4/4X/13, IP65
Indoor and outdoor use

UL Type 4/4X/13, IP65 on all bases, lights and caps sound modules
Indoor and outdoor use

UL Type 4/4X/13, IP65 on all bases, lights piezo-style sound and caps (sound and light with sound combo modules are IP54)
Indoor and outdoor use

Ease of Assembly, Base Wiring and Lamp Changes

No assembly required - all towers are assembled, wired, and tested at the factory

No assembly required - all towers are assembled, wired, and tested at the factory

No-tools assembly and maintenance, "Twist-off" lenses for easy lamp changes, top-mounted terminal block for easy base wiring

No-tools assembly and maintenance, "Twist-off" lenses for easy lamp changes, top-mounted terminal block for easy base wiring

Illumination Types

LED

LED

Incandescent, socket-mount LED, or strobe

Incandescent, socket-mount LED, or strobe

Lens Colors

Green, red, amber, blue, yellow, clear

Green, red, amber, blue, yellow, clear

Green, red, amber, blue, yellow, clear

Green, red, amber, blue, yellow, clear

Pole-Mount Base Options

Surface, 10 cm metric tube, and 25 cm metric tube

Surface, 10 cm metric tube, and 25 cm metric tube

10, 25, 40, 60, and 80 cm bases

10, 25, 40, 60, and 80 cm – aluminum or stainless steel bases

Other Base Mounting Options

Vertical bracket, conduit adapter, and quick-release base

Vertical bracket, conduit adapter, and quick-release base

Surface-mount bases (surface-mount bases also feature 1/2 NPT, PG16, and M20 threading options), vertical-mount bases, and quick-release bases

Surface-mount bases (surface-mount bases also feature 1/2 NPT, PG16, and M20 threading options) vertical-mount bases, and quick-release bases

Housing Colors

Black or grey base housing

Black base housing

Black or grey base housing

Black or grey base housing

Sound Options

Piezo-style sound modules in single and two tone

Piezo-style sound modules in single and two tone

Piezo-style sound modules in single and two tone

Transducer-style or piezo-style sound modules available in single or two tone (sound modules are UL Type 12, IP54), Piezo styles and modules also available in 4/4X

Connectivity

Standard connectivity

Standard connectivity

Standard connectivity

Standard or DeviceNet connectivity

Voltage Options

Bases available in: 24V AC/DC, 120V AC, 240V AC as standard offerings

Bases available in: 24V AC/DC, 120V AC, 240V AC as standard offerings

All modules available in: 12V AC/DC, 24V AC/DC, 120V AC, 240V AC as standard offerings

All modules available in: 12V AC/DC, 24V AC/DC, 120V AC, 240V AC as standard offerings

Pole Connection Box

–

–

Surface, vertical, and magnetic mount

Surface, vertical, and magnetic mount

Standards

cULus Listed, CE

cULus Listed, CE

cULus Listed and CE on all components

cULus Listed and CE on all components

Operating Temperature

-25…+50 °C
(-13…+122 °F)

-25…+60 °C
(-13…+140 °F)

-25…+50 °C
(-13…+122 °F)

-25…+70 °C
(-13…+158 °F)

Material

Polycarbonate - bases, cap, lens cover, sound module housing, lens, & lamp socket

Polycarbonate - bases, cap, lens cover, sound module housing, lens, & lamp socket

Polycarbonate (no sound module) - bases, cap, lens cover, lens, & lamp socket

Polycarbonate - bases, cap, lens cover, sound module housing, lens, & lamp socket
Certifications
CE Marked (855T, 855E, and 855F only)

cULus Listed — File No. E14840; Guide Nos. NKCR, NKCR7