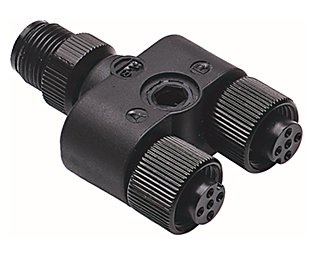 Our DC Micro Splitters & Tees are designed for use with dual input distribution boxes and MaXum™ distributed I/O. Splitters and tees allow two field devices to be interfaced with a single I/O port. The polyurethane (PUR) insulated body offers resistance to oil and chemicals. The ratcheting coupling nuts provide superior vibration resistance.
Popular Resources/Quicklinks
Connectivity & Network Media Brochure
Cordsets & Field Attachables Technical Data
Provides standard wiring models with or without pin 5 designed for use with dual input distribution boxes and IP67 distributed I/O

Provides standard wiring with pin 5 version specifically keyed for MDSA applications

Includes individual power wiring version for use with dual input distributed I/O with point-level diagnostics

Includes tap-style wiring version used for DeviceNet™ and micro auxiliary power applications
Certifications
CSA Certified

UL Recognized
Certifications apply when product is marked. See our Product Certification site for Declarations of Conformity, certificates and other certification details.