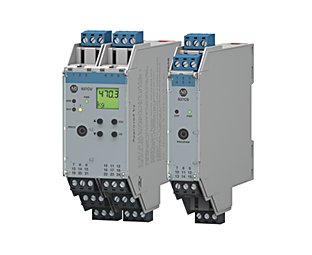 Our Bulletin 937C Converter Barriers add functionality to the isolators by receiving signals from a hazardous area instrument i.e., temperature sensors, or load cells, and then converting them to an industry standardized signal such as 0/4…20mA or 0/2…10V. Pulse evaluation units process a frequency signal at the input. A lead fault monitoring system signals a lead breakage or lead short-circuit on the signal cables.
Uses integrated diagnostics for simple maintenance and quick change of modules during ongoing operation
Uses DIP switches or Field Device Tool software for easy configuration
Provides easy and reliable planning and documentation with comprehensive standards compliance up to SIL 3
Offers horizontal or vertical mounting with no reduction in operational ratings
Includes line fault detection for field circuits
Provides power rail for reduced wiring, collective error messaging, and efficient troubleshooting and installation
Isolates galvanic and break ground loops which avoids inaccurate I/O signal readings and limits energy to the circuit
Zener Barrier Intrinsic Safety Modules are used in any application with Class 1, Division 1 (Zones 0 and 1) hazardous locations such as:
Chemical
Petrochemical
Oil and Gas
FDT Interface
FDT standardizes the communication and configuration interface between devices and control system or engineering or asset management tools. Examples include: PACTware™, FieldCare, FactoryTalk AssetCentre, and Process Device Configuration. 
Device Type Manager
The Device Type Manager (DTM) provides a unified structure for accessing device-specific data, functions, and logic elements. DTMs range from a simple graphical user interface for setting device parameters to a highly sophisticated application that can perform complex calculations for diagnostics and maintenance purposes. DTMs can also implement arbitrary complex business logics for device calibration.
For more information about FDT interface and DTM, visit: www.fdtgroup.org
Below is a list of our Bulletin 937C products that include DTMs and can be configured using an FDT interface:
937CS-AITMP-DC1
937CU-DIFRQ-DC1
937CU-DIFRQ-BC1
937CU-AITXF-DC1
937CU-AISTR-DC1
| Resource | Publication Number | Language |
| --- | --- | --- |
| Bulletin 937 Intrinsic Safety Modules Product Profile | 937-PP001 | |
Certifications
You can see a list of certifications for the Bulletin 937 Barriers by product number and link to the pdf of the certification document.
Certifications apply when product is marked. See our Product Certification site for Declarations of Conformity, certificates and other certification details. 
Zener Barrier Intrinsic Safety Modules are used in any application with Class 1, Division 1 (Zones 0 and 1) hazardous locations such as:
Chemical

Petrochemical

Oil and Gas