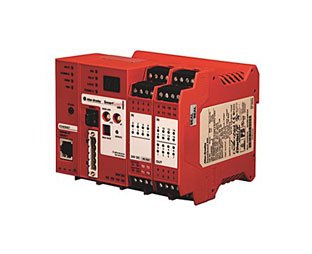 SmartGuard™ 600 Controllers with Safety feature 16 safety-rated inputs, 8 safety-rated outputs, 4 pulse test sources and an optional EtherNet/IP™ port. Each controller also includes a DeviceNet™ connection to support both standard CIP and CIP safety. You can configure and program on EtherNet/IP, on DeviceNet or through the built-in USB port. These small, cost-effective intelligent controllers can perform safety interlocking between GuardLogix® or other SmartGuard safety controllers.
Ideal for mid-level safety applications that are too complex for safety relays, yet too simple for full-sized safety PLCs
Integrates with Guard I/O™ modules to expand the number of safety devices you can control
Provides data to standard PLCs and HMIs through EtherNet/IP™ or DeviceNet™
Lets you configure and program through RSNetWorx™ for DeviceNet software (required for EtherNet/IP controller)
Additional Information
Protect your people, productivity, and environment with our Safety Components and integrated Safety Solutions. We understand your factory floor challenges and can help you meet your goals with one of the broadest safety portfolios in the industry.
Certifications
c-UL-us
UL listed for Class 1 Division 2 Groups A, B, C, D Hazardous Locations
UL Certified for Functional Safety
Certifications apply when product is marked. See our Product Certification site for Declarations of Conformity, certificates and other certification details. 
Our SmartGuard™ 600 controllers bridge the gap between a safety relay system and a safety PLC. They are ideally sized for applications that cannot be solved with safety relays, or are very cumbersome to solve with relays, but are not complex enough for a traditional safety PLC like a GuardLogix® or GuardPLC™ controller.

Use the SmartGuard 600 controller in safety applications including:
E-Stop

Light Curtain

Safety Gate

Two Hand Control

Multi-zone Control

Perimeter Guarding