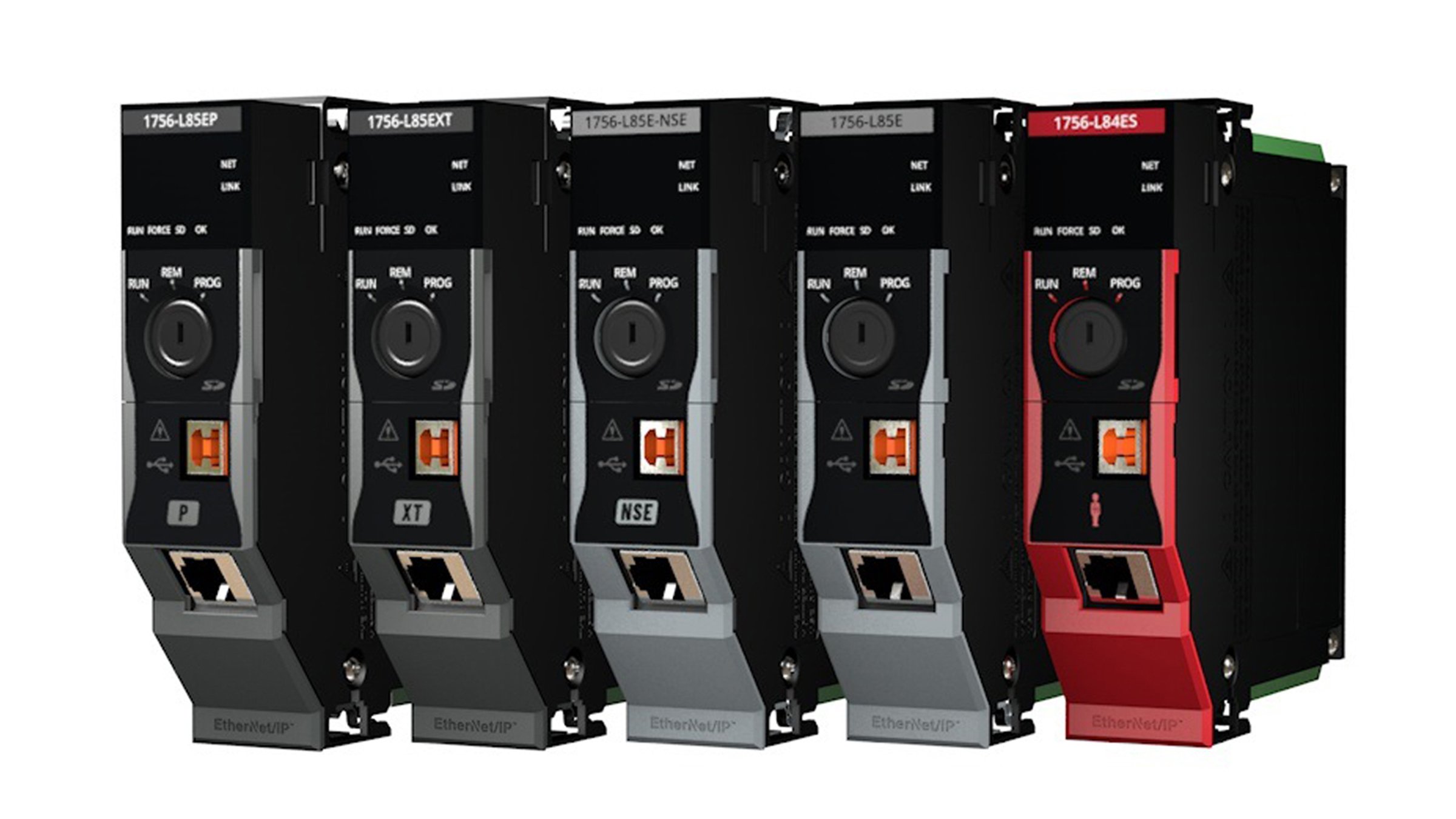 A modern control system is more than its name implies. It delivers the fast system performance, high capacity and optimized productivity that you need from a control system today. 
Our ControlLogix® and GuardLogix® 5580 family of controllers use the Studio 5000® design environment as the standard framework that optimizes productivity, reducing time to commission. This framework manages Integrated Motion over EtherNet/IP for high-speed motion applications and SIL2/PLd and SIL3/PLe safety solutions. It can also help you create more competitive operations with:

Common plant-wide control

ControlLogix 5580 controllers provide multi-discipline control for discrete, motion, process and safety applications.
A simplified architecture

Our Logix offerings work together in what we call our Integrated Architecture® offering. It helps you keep costs down and reduce system complexity.
Enhanced security

The ControlLogix 5580 controller incorporates security mechanisms like centralized authentication and access control to help keep your systems secure. We have also received ISO 27001 certification to help protect intellectual property – both ours and yours. And our vulnerability-management process aligns to IEC 29147 and 30111.
What's New?
Portfolio Expansion Meets New Performance and Industry Application Needs
The ControlLogix 5580 portfolio expansion is enabled through the Studio 5000 Logix Designer® version 33 software release, and it showcases our commitment to meet customer performance needs and industry applications by introducing the 5580 controller redundant capability and the following new controllers: process, extreme temperature, and no stored energy.
Key features and benefits:
Redundant Capability
Enables benefits of a ControlLogix 5580 controller architecture

Access to next generation I/O

Provides the basis for our Process controllers

Enhanced productivity features such as onboard display, 2GB Secure Digital (SD) card

One firmware for all solutions, standard and redundant

Never experience a memory penalty for enabling redundancy
Process Controller
For industries such as Food & Beverage, Oil & Gas, Chemical, Plastics, Life Sciences, Metals & Mining

Incorporates the functionality of standard controller including motion and conformal coating

Tight integration with PlantPAx® 5.0 system reduces the need to import Add-On Instruction

Subscribe and receive diagnostic information through FactoryTalk® View Site Edition without additional programming
Extreme Temperature Controller
Operation from -25…+ 70 °C (-4…+158 °F)

Convection cooled design

Maintains same product certifications as the standard product

Tested to ANSI/ISA-S71.04-1985; Class G3 standards
No Stored Energy controller

For use in hazardous zone applications such as underground mining and refineries requiring energy discharge to less than 200uJoules
Offers certification to a robust control system security standard - TÜV Rheinland IEC 62443-4-2

Gains up to 45% capacity when using the 5580 controller

Includes a 1 gigabit (Gb) embedded Ethernet port that enables high-speed communications, I/O, and motion control

Offers controller functions that maximize system performance

Includes controller-based change detection and logging, digitally-signed controller firmware, and role-based access control for extra security

Provides a display that allows for enhanced diagnostics and troubleshooting

Offers conformal coating to help protect in harsh environments; these products include a "K" in the catalog number

Offers memory options from 3…40 MB

Includes a 1756 Slim Power Supply option for series B and C standard and 1756 XT Chassis, which offers a 29% reduction in width when space is limited

Offers chassis with up to 17 slots in standard and conformal coated
GuardLogix 5580 Safety Controllers
Achieves SIL CL 2 / PLd with primary controller

Achieves SIL CL 3 / PLE with primary controller plus safety partner

Optimized for faster safety reaction time to achieving protective device coverage and reducing the risk of injury

Offers Standard memory options from 3...20 MB

Offers safety memory options from 1.5...6 MB

Offers communication options from 100...250 EtherNet/IP nodes

Offers conformal coated options for harsh environments

Provides single controller/software/network for standard and safety control

Includes mix and match safety and standard I/O

Provides networked safety functions with motion and the following drives: Kinetix® 5700 with Advanced Safety and PowerFlex® 755 with Advanced Safety
Feature

5580 Controllers

5570 Controllers

Performance

5x…20x

(Compared to a ControlLogix 5570 controller)

2x

(Compared to a ControlLogix 5560 controller)

Embedded Ethernet Port

1 gigabit (Gb)

No

Local Programming Port

USB

USB

Energy Storage Module (ESM) Included

Yes

Yes

Onboard Display Included

Yes

Yes

Supported in Studio 5000 Automation Engineering & Design Environment™

Yes

Yes

Non-volatile Memory

Secure Digital (SD) card

Secure Digital (SD) card

User Memory, Max

40 MB

32 MB

I/O Points, Max

128,000 digital; 4,000 analog

128,000 digital; 4,000 analog
Use the following software to help configure your ControlLogix 5580 controllers.
| Resource | Publication Number | Language |
| --- | --- | --- |
| Integrated Architecture Brochure | IA-BR005 | |
| ControlLogix 5580 Controllers Digital Brochure | 1756-PP001 | |
| Logix Backup Digital Brochure | 1756-PP014 | |
| ControlLogix Starter Kit | 756-SP401 | |
| ControlLogix 5580 Controllers TÜV Rheinland IEC 62443-4-2 Certification | 1756-CT135 | |
Certifications
ATEX
CE
CSA
CSAH
CUL
CULH
EAC
EtherNet/IP
FMH
IECEX
KC
Marine
RCM
TÜV Rheinland IEC 62443-4-2
UL
ULH
Certifications apply when product is marked. See our Product Certification site for Declarations of Conformity, certificates and other certification details. 
Our ControlLogix® controllers offer the memory, speed, and processing capabilities to meet the demands of basic plant floor applications to high-performance process and motion applications. These controllers:

offer increased capacity, that let you execute more control strategies in each task

significantly improve the amount of information to be exchanged between control and supervisory layers

provide high-speed motion command and axis trajectory planner execution for complex, high-performance motion applications

support as many as 100 axes of integrated motion

significantly improve controller scan times using a faster dual-core CPU

offer improved communication rates