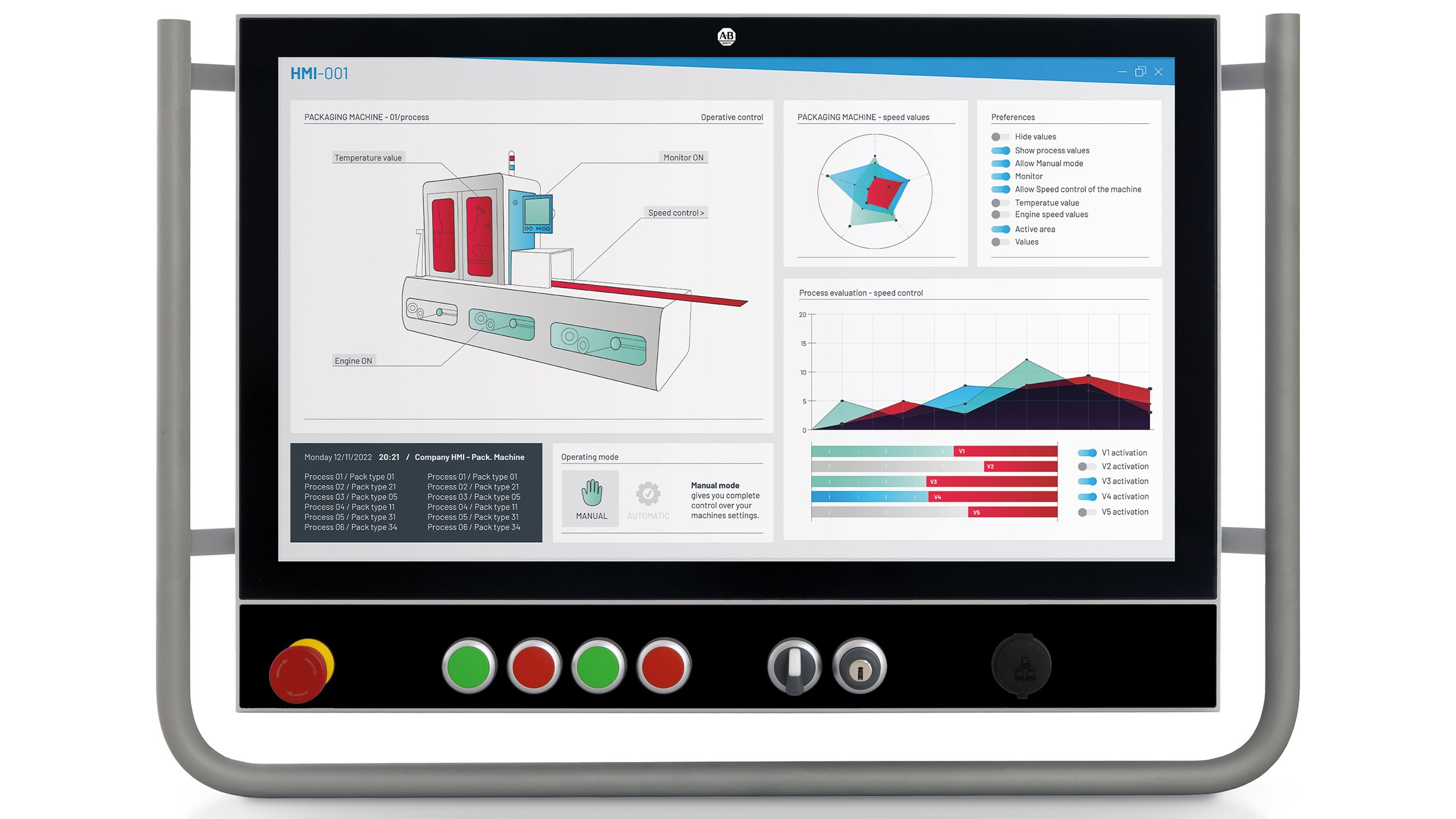 ASEM™ 6300PA On-Machine™ industrial PCs save time, space and installation cost. With a fanless design and wide temperature specs, these PCs are built to deliver years of reliable operation. These ultra-modern industrial PCs offer flexible mounting options, allowing machine designers to place the PC in the ideal location. These PCs can be further customized with optional accessories including handles, keyboard trays and a special panel for push buttons, selector switches and other input devices.
ASEM 6300PA On-Machine industrial PCs offer over 70 factory-configured combinations. These combinations can include a button area with hard-wired 22 mm pilot devices and wiring brought to two terminal blocks. More configuration is possible by adding additional elements.
These PCs also contain a USB port on the back of the unit, which is sealed with a threaded cap that makes it easy to connect peripherals temporarily, adding the ability to replace the cap later to preserve the IP65 rating. ASEM 6300PA On-Machine industrial PCs are compatible with ThinManager® software and the entire suite of FactoryTalk® software, including FactoryTalk® View ME, FactoryTalk® View SE, FactoryTalk® Remote Access™ runtimes and the upcoming FactoryTalk® Optix™ HMI system. 
Available in landscape and portrait versions:

Landscape with 15.6", 18.5", 21.5" and 24" TFT LCDs in wide aspect ratio
Portrait with 21.5" and 24" TFT LCDs in wide aspect ratio

Features Full HD resolution
Offers various exterior features:

VESA 75/100 mounting
Powder coated die-cast aluminum chassis with anti-scratch treatment
Full IP65 ingress protection with UL Type 1 and 4X (indoor) ratings

Bezels are aluminum and glass True Flat frame with multitouch projected capacitive touch screens
Features options such as:

Factory-configured button area with 22 mm pilot devices
CPU options for Intel Celeron, i3 and i5 processors