42EA RightSight S18A photoelectric sensor

42EF RightSight M18 photoelectric sensor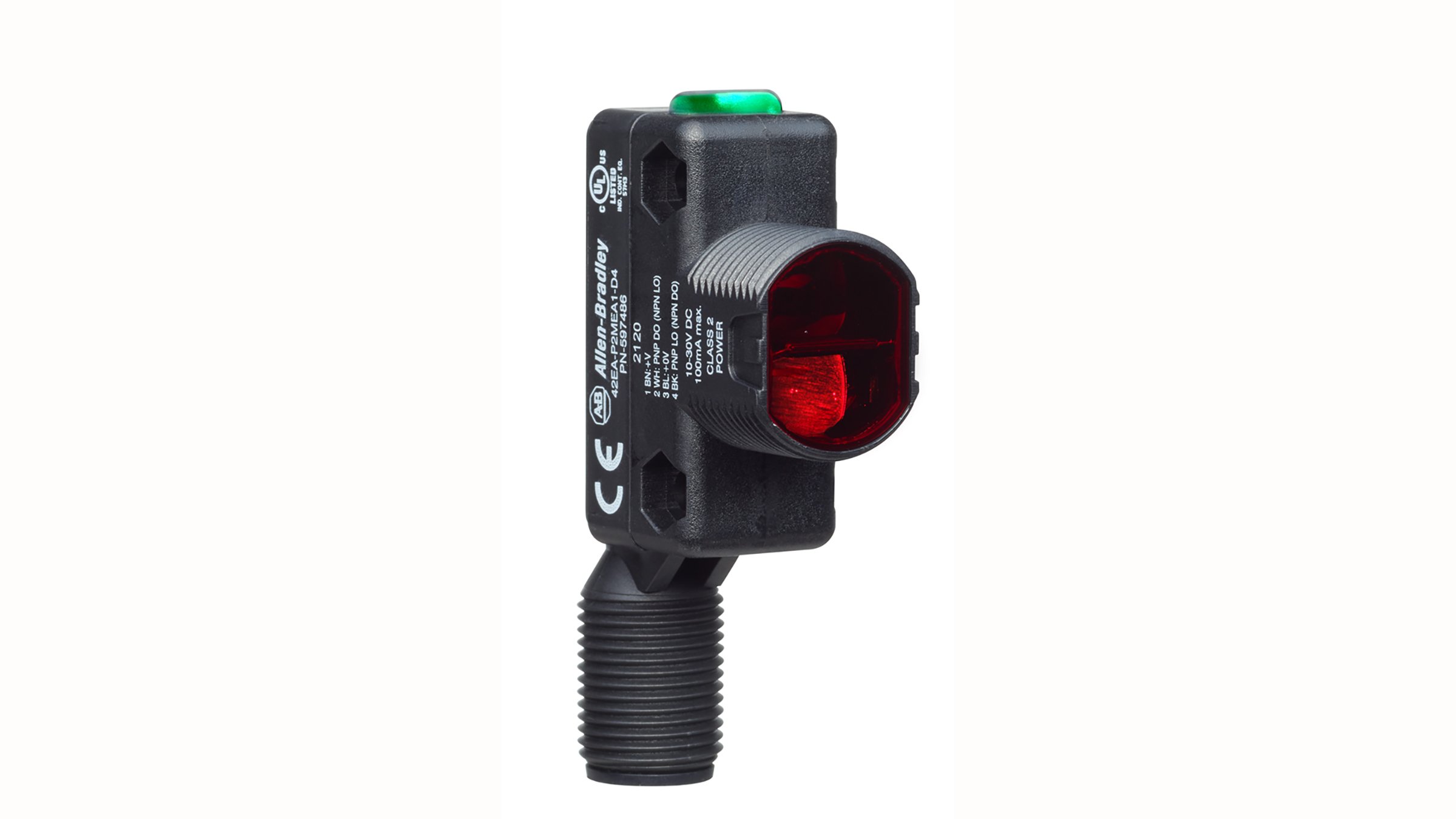 Our Bulletin 42EA RightSight™ S18 and 42EF RightSight M18 photoelectric sensors feature a wide range of sensing modes and are ideal for general purpose and cost-sensitive applications in material handling, packaging and other industries. The RightSight family offers industry standard housing with 18 mm nose and 25.4 mm through-hole mounting for application flexibility.
 

42EA RightSight S18

42EF RightSight M18A

IO-Link enabled
No
Yes
360° visible indicators
Yes
Yes (LED)
Variety of sensing options
 
 
Diffuse
450 mm (17.7 in.)
500 mm (19.7 in.)
Background suppression (BGS)
50 mm (2 in.), 100 mm (3.9 in.)
50 mm (2 in.), 100 mm (3.9 in.)
Polarized retroreflective
3.5 m (11.5 ft)
3 m (9.8 ft)
Sharp cutoff
-
130 mm (5.1 in.)
Fiber optic
-
Depends on fiber
Transmitted beam (T-beam)
10 m (32.8 ft)
20 m (65.6 ft)
Light source
 
Red
Infrared (T-beam)
Infrared (T-beam)
Output mode
L.O. and D.O
Complementary L.O and D.O
Output type
NPN and PNP (Push-pull)
NPN and PNP by Cat. No.
Operating voltage
DC
DC
Response time
1  ms
1  ms
Enclosure rating
IP67
IP67 and IP69K
Rockwell Automation announces that as of March 2016, specific 42EF RightSight polarized retro-reflective, diffuse, and transmitted beam sensor models are discontinued and no longer for sale.

To support your transition, we recommend that you migrate to our enhanced 42EF Series D sensors. The 42EF Series D sensors offer IO-Link 1.1 protocol which provides users with additional sensor diagnostics when connected to an IO-Link master.
Migration Solutions
Demanding market conditions pose significant challenges. Across the enterprise and throughout the lifecycle, you must continuously strive for ways to leverage your existing automation investment.
Let Rockwell Automation help you determine your migration options and show you the benefits, including better performance, more informed business decisions, reduced maintenance costs, and quicker response to changing market demands.
Use the Product Lifecycle Status search tool to find specific lifecycle information by catalog number.
Learn more about our Migration Solutions.
| Resource | Publication Number | Language |
| --- | --- | --- |
| Presence Sensing Brochure | SENSOR-BR001 | |
| 42EA RightSight and 42JA VisiSight S18A Photoelectric Sensors Product Profile | 42JAEA-PP001 | |
| RightSight Photoelectric Sensor with Teach Function Product Profile | 42EF-PP002 | |
| Integrated Smart Sensor Solution Quick Reference Guide | IOLINK-SP001 | |
Certifications
CE Marked for all applicable directives 

CSA Certified

UL Listed

IO-Link