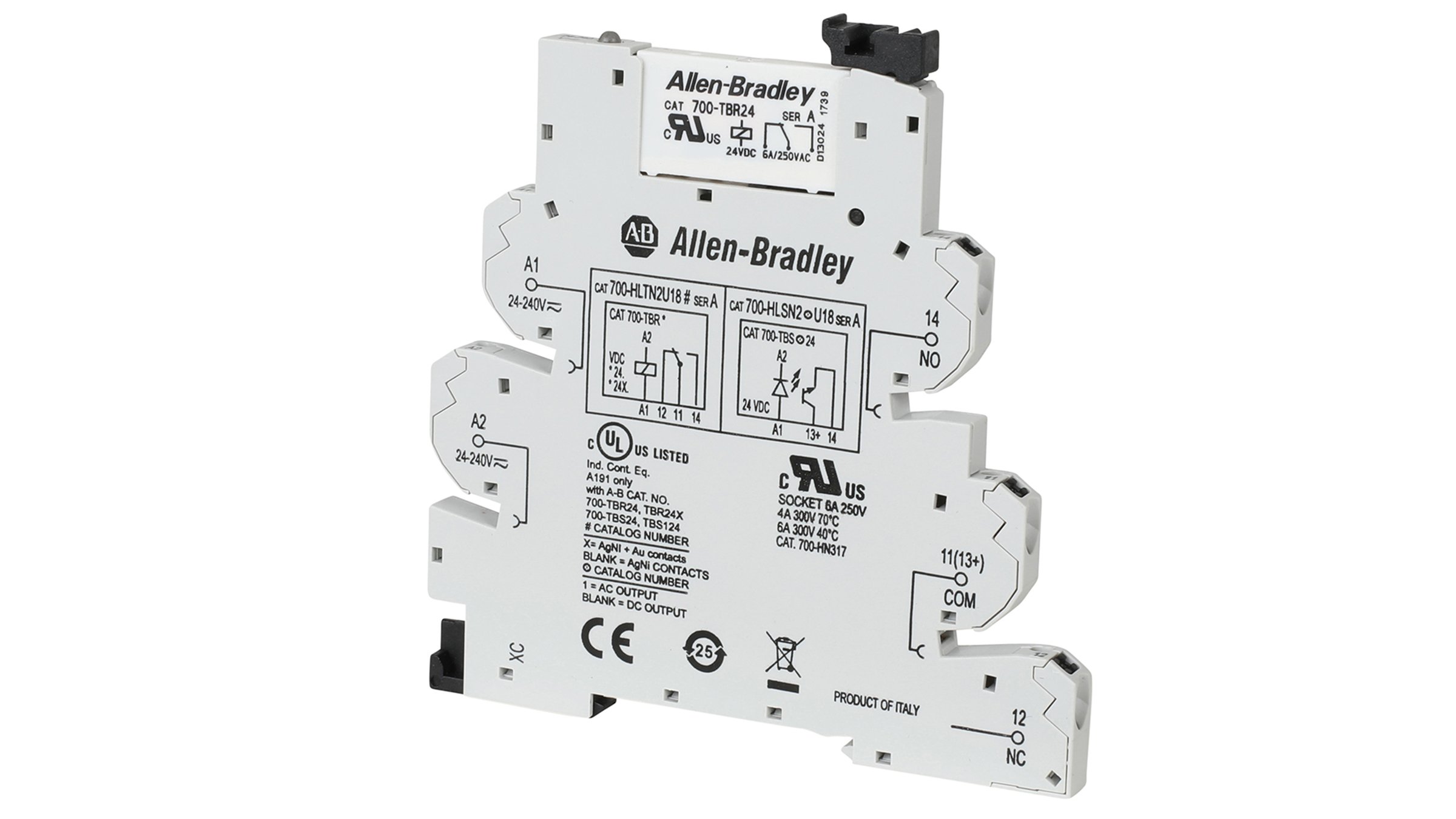 Our Bulletin 700-HL Terminal Block Relays work in a variety of high-density isolation and interposing applications. The thin per-pole interface (6.2 mm wide) and quick connections help reduce installation costs. The spring-clamp terminal base option is ideal for applications that are subject to vibration. Optional leakage current suppression circuit design addresses nuisance coil turn-on or contact non-drop-out concerns for TRIAC controller outputs. The 700-HL-N Next Generation offers built in leakage current suppression, wide-range control voltage input, and optional push-in terminal technology. 
Includes relay and socket assembled interface modules for high density interposing or isolation applications
Includes screw-type and spring-clamp terminal bases.
Offers push-in terminal bases on Next Generation versions
Includes externally replaceable relay modules
Provides built-in retainer clip and snap-in marker lever
Provides standard status indicator, reverse polarity protection, and surge protection
Offers leakage current suppression version
Includes leakage current suppression bult-in on Next Generation versions
Available with hazardous location certification
1-pole (6 A) and 2-pole (10 A) versions
| Resource | Publication Number | Language |
| --- | --- | --- |
| Bulletin 700 General Purpose, Interposing, Solid-State and Specialty Relays Brochure | 700-BR018 | |
| Bulletin 700-HL 2-pole Terminal Block Relay Product Profile | 700-PP021 | |
| Next Generation Terminal Block Relays Product Profile | 700-PP033 | |
Certifications
CE Marked
cULus Listed — File No. E3125; Guide Nos. NLDX/NLDX7 (with Allen-Bradley socket)
Standards Compliance
    CSA 22.2
    EN61810-1
    EN60998-1
    EN60998-2-1
    ICS-2 Compliant
    NEMA IEE MAC Compliant
    UL 508

Certifications apply when product is marked. See our Product Certification site for Declarations of Conformity, certificates and other certification details.