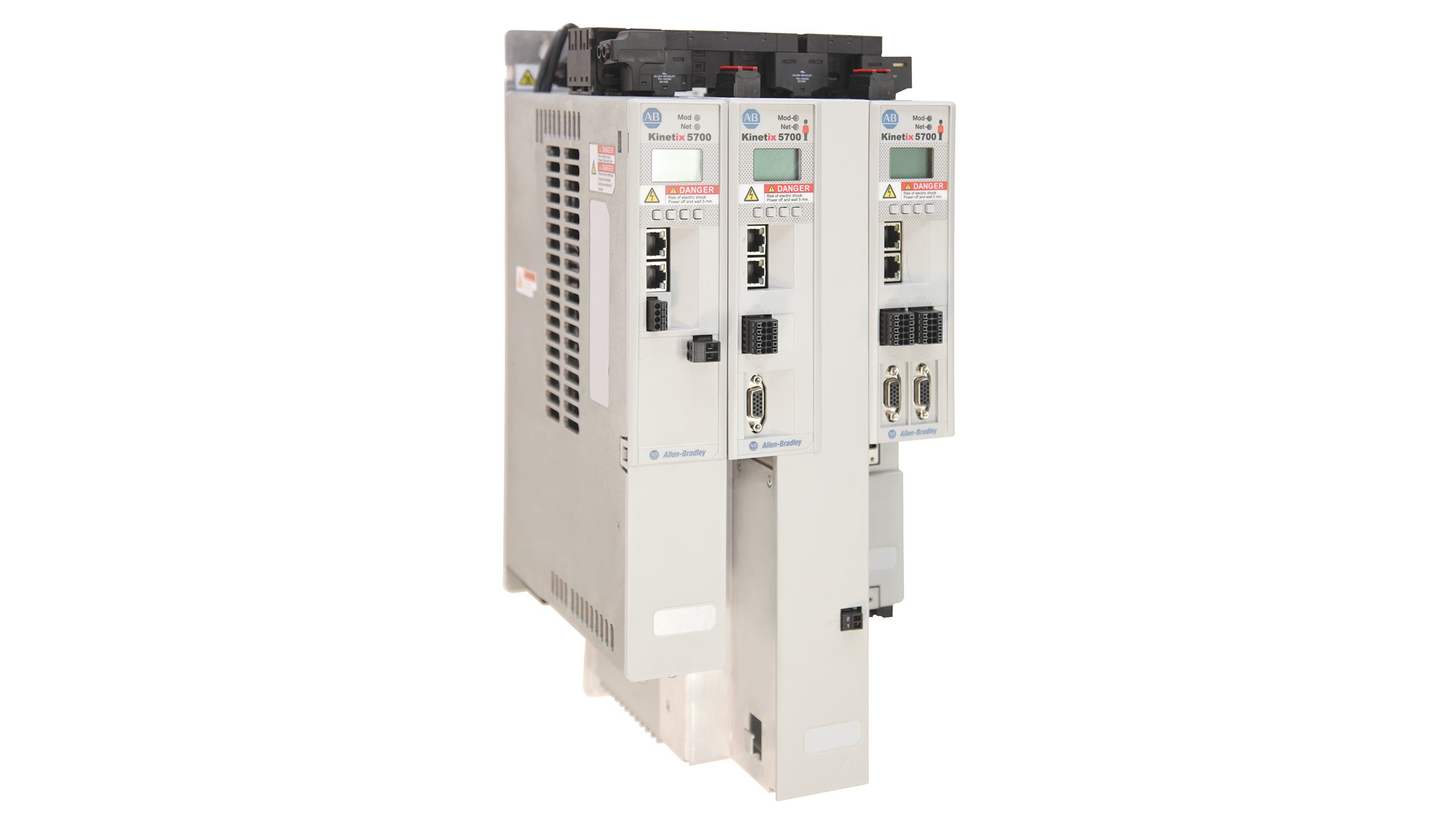 Our Kinetix® 5700 Servo Drives are designed for machines with large axis counts and high-power requirements. These high-performance servo drives feature leading technologies that have been designed to help you build machines that are more capable, flexible and energy-efficient than ever before. Kinetix 5700 Servo Drives compliment your Logix control system by using EtherNet/IP communication to provide quick access to the data you need, while simplifying your systems by using one network for both integrated motion and safety.
What's New
Tuning-less Startup and Operation
V13 firmware for the Kinetix 5700 servo features updates to reduce or eliminate tuning effort. Enhancements include:
Virtual torque sensor functionality to detect anomalies and provide analytics

Adaptive tuning now includes multiple tracking notch filters and improved filter configuration

The command notch filter reduces load oscillation in applications without a load sensor

200V and 400V class motor support
The high-performance Kinetix 5700 Servo Drives help meet demanding application requirements across a wide variety of industries. These multi-axis servo drives combine high-performance servo and vector motor control – helping to simplify machine designs and reduce time and labor costs for integration. Kinetix 5700 Servo Drives can be configured with integrated drive safety and a regenerative bus supply to help your next servo solution be safer and more energy-efficient than ever before. 
Features
Kinetix 5700 Servo Drives
Delivers high-power density in a compact frame size
Provides a wide 1.6…112 kW power range
Supports servo and induction motors with a broad range of feedback types
Features dual-axis modules
Enables easy assembly and installation with an innovative snap-fit bus system 
Supports a single cable solution for motor power and feedback
Includes dual ethernet ports to support linear and Device Level Ring (DLR) topologies
CIP Security capability supports a defense in depth cybersecurity approach
Kinetix 5700 Integrated Safety Servo Drives

Includes Integrated or hardwired safety options
Integrated safety option reduces overall system wiring
Advanced safety with Safe Torque Off, safe stop and safe monitoring functions
Kinetix 5700 Regenerative Bus Supply

Helps reduce overall energy consumption by regenerating excess energy
Performs common DC bus voltage regulation across entire AC input voltage range
Onboard diagnostics for power quality monitoring to provide real-time analytics with EtherNet/IP
Reduces installation costs and cabinet space with an integrated LC filter
Tuning-less Setup and Operation

Uses Load Observer real-time tuning technology to automatically tune each axis, compensate for unknown mechanics and adjust for applications with varying inertia during operation
Virtual torque sensing helps detect anomalies and provide analytics
Mitigate resonance with adaptive tuning that uses multiple tracking notch filters
| Resource | Publication Number | Language |
| --- | --- | --- |
| Kinetix 5700 Servo Drives Product Profile | 2198-PP002 | |
Certifications
C-Tick
CE Marked
cULus Listed
KC
ODVA
OSHA
Certifications apply when product is marked. See our Product Certification site for Declarations of Conformity, certificates and other certification details.