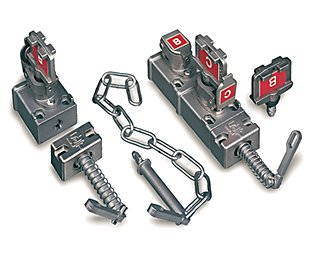 Our Access/Chains Trapped Key Interlock Switches allow access to hazardous areas only when an appropriate key is inserted into the interlock. These stainless steel access interlocks provide a rugged, industrial grade method of helping prevent access through gates. They are actuated by either a lever or a rod that is connected to chain.
Popular Resources/Quicklinks
Safety Switches Brochure
Safety Switches Specifications Technical Data
316L stainless steel construction
Direct drive operation
Fitted with tamper resistant screws
Stainless steel dust cap
Replaceable code barrel assembly
Mechanical or electrical switch types
Multiple key options
Additional Information
Protect your people, productivity, and environment with our Safety Components and integrated Safety Solutions. We understand your factory floor challenges and can help you meet your goals with one of the broadest safety portfolios in the industry.
Certifications
BG
CE Marked for all applicable directives
C-Tick not required 
Category
Cat. 1 per EN 954-1 (ISO 13849-1)
Suitable for Cat. 2, 3, or 4 systems
Standards Compliance
EN 1088
ISO 12100-1&2
ISO 14119
AS 4024.1  
Certifications apply when product is marked. See our Product Certification site for Declarations of Conformity, certificates and other certification details.