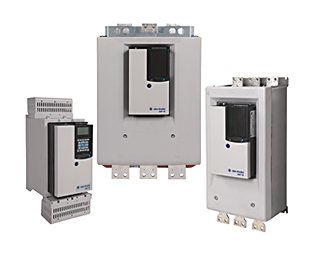 Our SMC™-50 soft starters are available with a current range from 108…480 A. Our SMC-50 fully solid-state soft starters are available from 90...520 A. Advanced monitoring and protection functions, superior communication capability, and energy saver mode all help this soft starter increase efficiency and reduce downtime.
Provides 90…520 A range with solid-state power structure

Provides 108...480 A range with internal bypass power structure

Uses rated voltage: 200…690V AC, 50/60 Hz

Includes 17 start and stop modes

Includes four special operating modes

Includes three hardware expansion ports

Provides built-in electronic motor overload protection

Offers optional communication modules that support multiple networks

Offers optional Parameter Configuration Module, Human Interface Module, or PC-based software for programming and monitoring

Programming via Connected Components Workbench™ software
Additional Information
Do you need a soft starter or an AC drive? What does your application require? When choosing between a soft starter and an AC drive what do you need to consider? Read the following blogs to learn more:
| Resource | Publication Number | Language |
| --- | --- | --- |
| Smart Motor Controllers Soft Starters Family Brochure | 150-BR144 | |
| Enclosed Smart Motor Controllers Product Profile | 150-PP007 | |
| Controlling High Efficiency Motors Brochure | IE3-BR001 | |
| Global Short Circuit Current Ratings Product Profile | SCCR-PP003 | |
| When to use a Soft Starter or an AC Variable Frequency Drive | 150-SP007 | |
Certifications
SMC-50 Solid-state


cULus Listed (Open Type) (File No. E96956)

CE Marked per EMC Directive and Low Voltage Directive

Suitable for use with IE3 Motors (IEC 60034-30)
SMC-50 Internal Bypass

cULus Listed (Open Type) (File No. E96956)

CE Marked per EMC Directive and Low Voltage Directive

CCC

RCM

EAC

KCC

ABS

Suitable for use with IE3 Motors (IEC 60034-30)
Standards Compliance
Certifications apply when product is marked. See our Product Certification site for Declarations of Conformity, certificates and other certification details. 
Watch the following videos to see how our SMC-50™ soft starters are used in the following applications.
Water Pump
The SMC-50 soft starters use new soft start technology to provide torque and speed control for starting centrifugal pumps and high-inertia loads. Through proprietary sensorless speed sensing and motor control algorithms, the SMC-50 soft starter can deliver even smoother pump starts and stops than was possible with previous pump-control methods.
Compression Tank
The SMC-50 soft starters use linear start technology which is ideal for both high and low pressure applications such as those found in compression tanks. This soft starter also has an energy saver mode which optimizes energy usage when running lightly loaded motors.