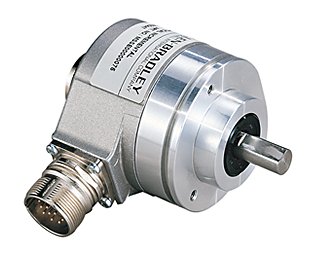 Our Bulletin 842A Multi-turn Magnetic Encoder is a 25-bit absolute multi-turn shaft encoder. It provides up to 8192 pulses per turn or a maximum of 8192 turns. It uses a technology called Synchronous Serial Interface (SSI) to provide 24-bit resolution over just 5 wires. The SSI output from the 842A encoder can be interfaced in several different ways.
Popular Resources/Quicklinks
842A Absolute Encoders Installation Instructions
Reduced wiring cost and complexity

Noise immunity achieved via differential communication format

Simplified startup

Choice of gray code or natural binary formats
Certifications apply when product is marked. See our Product Certification site for Declarations of Conformity, certificates and other certification details. 
Typical applications for Bulletin 842A Multi-turn Magnetic Encoders include:
Steel mills

Overhead cranes

Punch press

Transfer lines

Oil rigs

Wind mills

Machine tools

Packaging