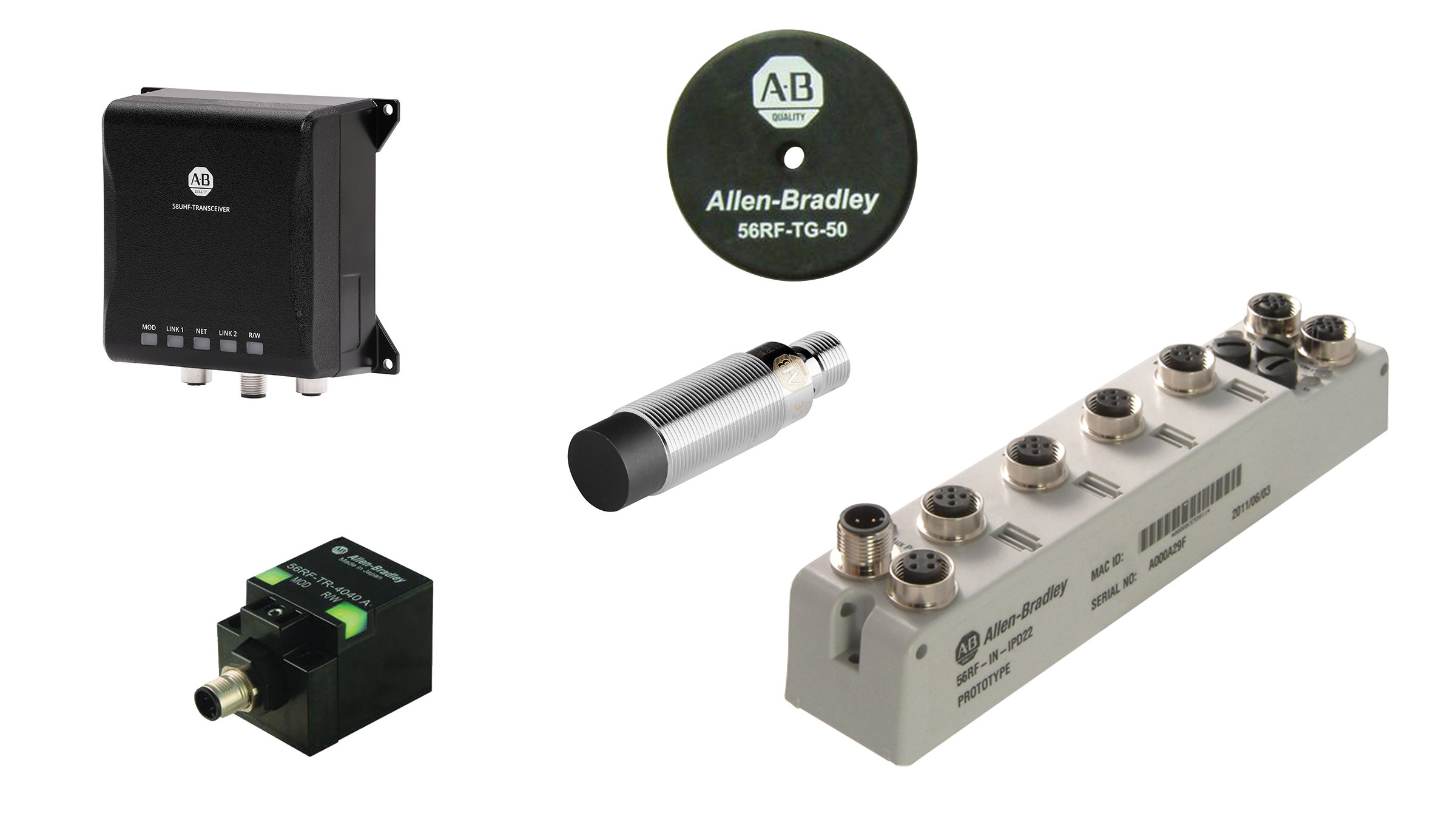 Our Radio Frequency Identification (RFID) Systems are ideal for tracking and documenting products as they move through the manufacturing process and beyond in light-duty industrial applications. The HF RFID system tags, transceivers, and interfaces are designed to the ISO 15693 open standard. The UHF RFID transceivers are designed to the Global Gen2 standard.
In addition to our 56RF EtherNet/IP-enabled system, Rockwell Automation has two new additions:
Our new 59RF family of HF read/write transceivers are IO-Link enabled 

Our 58UHF family of EtherNet/IP long-range read/write transceivers
This solution easily integrates into The Connected Enterprise®, delivering data directly into a control system to help minimize downtime and increase productivity.

 

56RF HF RFID

59RF HF RFID

58UHF RFID

Communications

EtherNet/IP™
IO-Link
EtherNet/IP

Sensing Distance

55…168 mm (2.16… 6.6 in.)
40…78 mm (1.59… 3.07 in.)
1.5…5 m (4.92…16.4 ft)

Operating Voltage

24V DC

Enclosure Rating

IP67
IP67/68/69K
IP66/67

Frequency

13.56 MHz
902…928 MHz
865…868 MHz

Output Current, max

100 mA per transceiver
200 mA per transceiver
0.5 A per transceiver

Compliance

ISO/IEC 15693
ISO/IEC 15694
ISO 18000-63
Typical applications for the our RFID systems include:

Asset tracking

Automotive

Data acquisition

Food and pharmaceutical

Product handling

Security and entrance

Tool management
RFID Simulator is a Windows-based software program intended to assist in the setup of an RFID application. The simulator allows the selection of nearly all combinations of transceivers and tags offered by Rockwell Automation. By varying the tag-to-transceiver distance and line speed, a user is able to quickly determine the most optimal setup for their application.

Note: The simulator is a tool intended to assist in the setup of an RFID application. The values displayed within are theoretical estimates, and variations within an individual system may effect realized values.

To install the RFID Simulator:
Download all content within the RFID Simulator Software folder.

Install the simulator by referring to the RFID Simulator Installation Instructions.

Refer to the RFID Simulator Manual for a quick walkthrough and general overview of the simulator.
| Resource | Publication Number | Language |
| --- | --- | --- |
| Smart Track and Trace Solutions Brochure | RFID-BR001 | |
| High Frequency Industrial Radio Frequency Identification (HF RFID) Product Profile | HFRFID-PP001 | |
Certifications
CE Marked for all applicable directives

C-Tick

cULus Listed

UKCA Marked for all applicable regulations