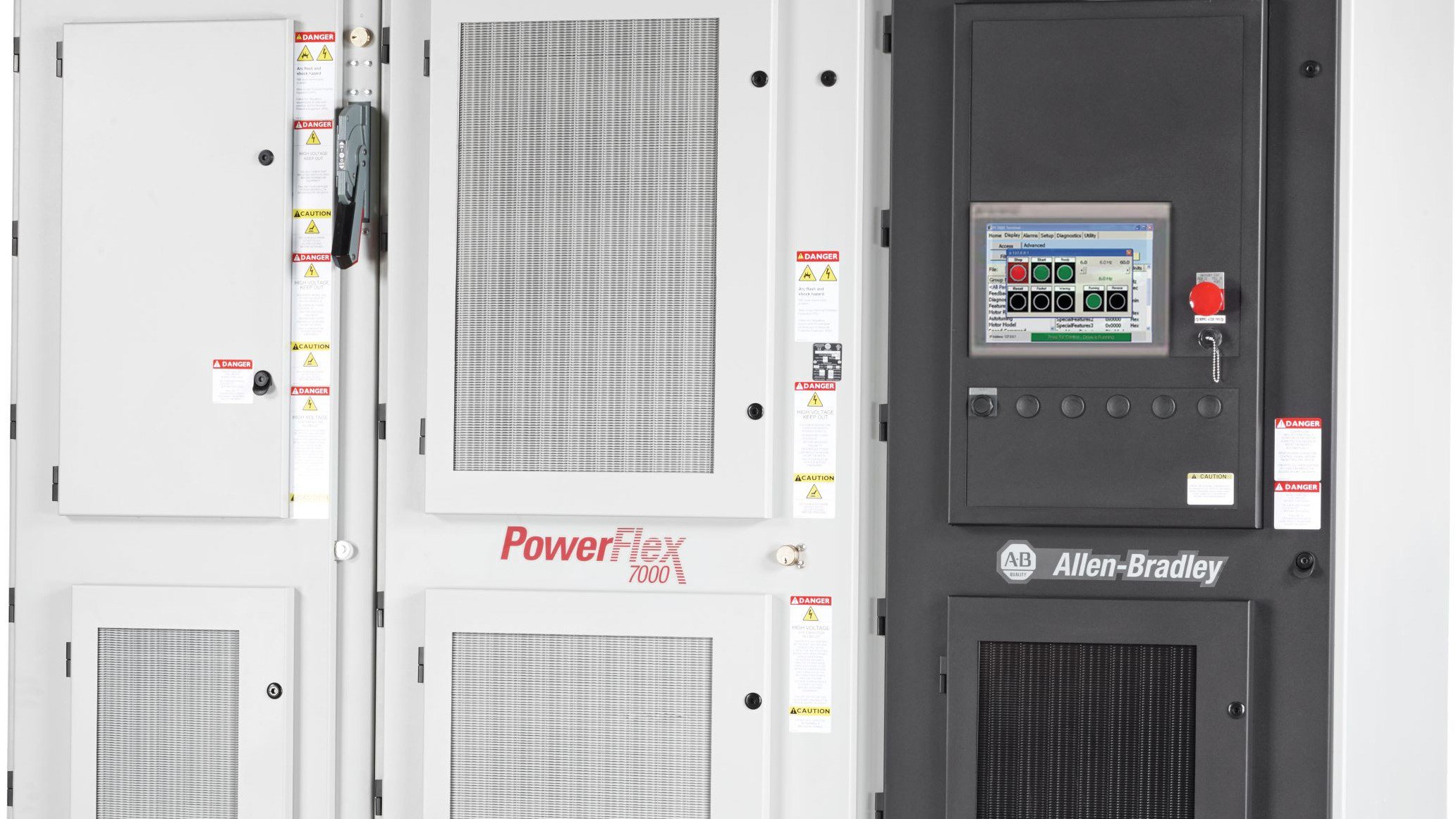 Our air- and liquid-cooled PowerFlex® 7000 medium voltage variable frequency drive (VFD) is available in a broad power range: 150…25,350 kW (200…34,000 Hp), rated 2.4…6.6 kV AC. These high-performance VFDs feature power regeneration capabilities and deliver soft-starting, variable speed, torque, direction and stopping control for standard induction or synchronous AC motors.
PowerFlex 7000 Medium Voltage (MV) Drives
With advanced power semiconductor technology and a straightforward design, the PowerFlex 7000 VFD component count is the lowest of any medium voltage variable frequency drive available. This helps increase reliability plus, reduce downtime, maintenance and spare parts costs. 
Delivers nearly perfect output current and voltage waveforms, allowing use of standard motors
Offers Direct-to-Drive™ technology, AFE rectifier and 18-pulse rectifier configurations
PowerCage™ inverter and rectifier modules allow SGCT replacement in under 10 minutes
Motor cable length up to 30 km (18 mi)
Synchronous transfer system architecture allows multiple motor system control with one drive

Provides power regeneration capabilities without additional hardware to put energy back to the utility grid. Regenerative braking eliminates the need for braking resistors
Simplify Configuration and Programming with PowerFlex MV Drives
Easy configuration, integration and visualization in the Studio 5000® design environment. The Logix control platform simplifies parameter and tag programming and reduces development time. 
Leverage Connected Components Workbench™ software for full device profile support, making it easier to configure, program and visualize

More comprehensive and faster troubleshooting with the Forensic Data Recorder
Air-cooled Medium Voltage VFD
150…6000 kW (200…8000 Hp)

Rugged, minimum component count, optimum reliability
Extended Power VFD Configurations
Up to 25,350 kW (34,000 Hp)

Add up to four drive modules in one system—until the drive power matches the application requirements

Suitable for hot back-up applications with control redundancy
Liquid-cooled MV VFD
2240…6340 kW (3000…8500 Hp) 

Drastically reduces control room air conditioning costs, removing 90% of the heat via a heat exchanger

Supports higher elevations and ambient temperatures than air-cooled drives
Liquid-cooled MV VFD for Marine
600…22,370 kW (800…30,000 Hp) 

Liquid-cooled VFDs use Direct-to-Drive™ technology
Enhance Functional and Personnel Safety with PowerFlex MV Drives
Our approach to safety improves the operation of your equipment and helps increase safety and productivity. PowerFlex 7000 medium voltage drives offer two options to enhance safety: Safe Torque Off control and ArcShield™ arc-resistant enclosures. 
Safe Torque Off removes power from the motor without removing power to the VFD, enabling a faster system restart after a safe state is reached. 
Ideal for industrial applications, such as material-handling conveyors and grinding mills
Designed in the drive control, without requiring additional electromechanical components
Achieves requirements for SIL 3, PLe, CAT 3 per IEC 61508 and ISO 13849-1
TÜV Certified
ArcShield technology helps reduce arc flash hazards, personnel and equipment safety risks, and downtime. The PowerFlex 7000 is the first 50 kA-rated arc-resistant medium voltage VFD with full regeneration capabilities – certified to meet global standards with Type 2B protection.
Meets heavy industry needs and configurations, 2.4…4.16 kV, rated up to 430 A for synchronous or induction motors
Designed to redirect arc flash energy out the top of the enclosure, away from personnel
Type 2B protection helps improve personnel protection in front, at side or behind enclosure. Type 2B protection is maintained when the low voltage control door is open for maintenance
Arc-resistant standards compliance: 

IEEE C37.20.7
CSA C22.2 No. 22-11
EEMAC G14-1
IEC 62271-200
IEC 62477-2
You can use the following software to program your drives.