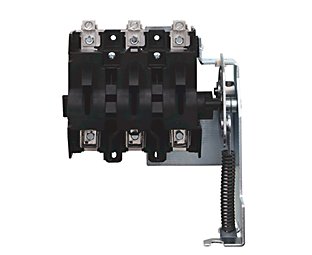 Our Bulletin 1494U Universal Disconnect Switches provide the extra level of visual ON or OFF indication of a knife-blade disconnect design. These switches have UL, CSA, and CE ratings in one product line. You can choose from non-fusible or fusible versions in 30...600 A sizes. These universal disconnect switches are unique and can be connected for rod or cable operation in the field. With the cable option, you also have the flexibility to mount the switch anywhere in the panel, regardless of where the handle is located.
Uses a visible blade design to determine if the switch is ON or OFF at a glance

Allows the same switch to be connected to a threaded rod or a cable mechanism for reduced inventory.

Requires up to 50% less panel space

Includes modular component with simple instructions in both printed and video formats

Provides more flexibility and reduced bend diameter

Integrates phase barriers with line and load markings into the switch body

Offers separately mounted fuse blocks
| Resource | Publication Number | Language |
| --- | --- | --- |
| Rotary and Visible Blade Disconnect Switches Brochure | 194R-BR001 | |
| Bulletin 1494U Universal Visible Blade Disconnect Switch Product Profile | 1494U-PP001 | |
Certifications
CE Marked
CSA Certified
UL Listed
Certifications apply when product is marked. See our Product Certification site for Declarations of Conformity, certificates and other certification details.