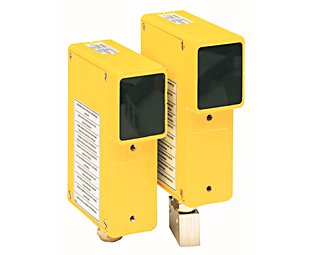 Short scan range of 0.5…20 m (1.64…65.5 ft)
Long scan range of 15...70 m (49.2...300 ft)
Die-cast aluminum housing
Heated front lens for outdoor applications
Relay outputs
Additional Information
Protect your people, productivity, and environment with our Safety Components and integrated Safety Solutions. We understand your factory floor challenges and can help you meet your goals with one of the broadest safety portfolios in the industry.
Certifications
BG
CE Marked for all applicable directives 
Safety Classification
Type 4, IEC 61496
SIL 3 (IEC 61508)
SIL CL3 (IEC 62061)
Category 4 (EN ISO 13849)
PLe (EN ISO 13849)
B10d parameter: 1 x 106 switching cycles (@ DC-13, 24V, 0.6 A); 2 x 105 switching cycles (@ DC-13, 24V, 1.5 A)
PFHd: 4.0 x 10-9
Mission time: 20 years 
Standards Compliance
Typical applications for the Bulletin 440L Area Access Control (AAC) Single Beam sensors include:
Robotic work cells

Processing machines

Machining centers

Palletizers

Transfer lines

High bay warehouses
Safety Solutions Case Studies — View our case studies site to discover how customers have applied Allen-Bradley safety products in their applications.