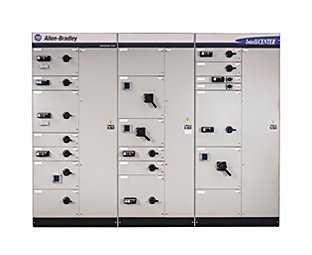 Our CENTERLINE® 2500 IEC Low Voltage motor control centers (MCCs) are designed to meet global application requirements. By combining a smaller footprint and comprehensive type testing, the CENTERLINE 2500 MCCs help meet the needs of customers. Our MCCs also help meet the global demand for factory-ready, space-, energy-, and cost-efficient motor control solutions.
Includes designs for fixed or withdrawable units


Select high density fixed units when floor space is limited

Select fully withdrawable units for fast replacement

Provides high unit density to optimize column space

Offers a variety of intelligent motor control options

Offers fully type tested standard designs
CENTERLINE 2500 with ArcShield Technology
Helps to reduce arc flash hazards and provide you with increased protection against internal electrical arcing faults

Provides personnel and assembly protection per IEC/TR 61641:2014

Includes arc-resistant latches on all doors for pressure relief to keep the door latched to the MCC during an arcing fault

Includes arc-resistant baffles for PowerFlex® variable speed drives to enable adequate heat dissipation and retain arc-containment
CENTERLINE 2500 with IntelliCENTER Technology
Offers a built-in EtherNet/IP™ network that provides real time data to minimize the need to approach the MCC

Offers built-in EtherNet/IP and DeviceNet™ technology which is designed and tested to ODVA specifications to help assure reliable communications

Includes IntelliCENTER® software which provides access to operating data and troubleshooting to help reduce downtime
CENTERLINE 2500 with SecureConnect Technology
Reduce exposure to electrical hazards by disconnecting power from the vertical power bus in an individual unit with the door closed

Provides four operating positions: connected, test, disconnected, and released. A plunger near the handle can also be locked out for added safety

Complies with IEC/TR 61641 and provides access as required by IEC 61892 for offshore oil and gas applications
Certifications
ABS
ASTA 3rd Party Certified to IEC61439-1 and 2
CE Conformance Marked
China Compulsory Certificate (CCC)
DEKRA 3rd Party Certified to IEC61439-1 and 2
EAC
ERA
IBC 2010
ICC-ES AC156
RETIE
SEI/ASCE 7-05
SEI/ASCE 7-10
Seismic
SII (Standards Institution of Israel)
Certifications apply when product is marked. See our Product Certification site for Declarations of Conformity, certificates and other certification details. 
| Resource | Publication Number | Language |
| --- | --- | --- |
| IntelliCENTER Technology with EtherNet/IP Brochure | MCC-BR003 | |
| CENTERLINE 2500 MCC Product Profile | 2500-PP001 | |
| Fastrak CENTERLINE 2500 Product Profile | 2500-PP004 | |
| CENTERLINE 2500 Selection Guide | 2500-SG001 | |
| CENTERLINE 2500 MCC Installation Manual | 2500-IN001 | |
| CENTERLINE 2500 Installation Instructions | 2500-IN002 | |
| Retrofitting CENTERLINE 2500 Series A Through C Columns with Series D Units Installation Instructions | 2500-IN006 | |
| CENTERLINE 2500 Selection Checklist | 2500-SR001 | |
| CENTERLINE 2500 MCC Procurement Specification | 2500-SR002 | |
| Virtual Factory Acceptance Testing | MCC-SP005 | |