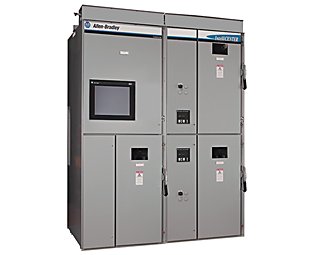 Our CENTERLINE® 1500 Medium Voltage Motor Control Centers (MCCs) are available in various control formats that include arc resistant product designs. Controller options include full-voltage, reversing, reduced-voltage, solid-state reduced-voltage, multi-speed, and synchronous control. These controllers include load break switches that provide integrated intelligence and the lowest-cost solution for starting motor applications.
CENTERLINE 1500 MCCs Offer a Breakthrough Safety Feature

Safety first! A new Integrated Protective Maintenance Grounding device grounds all load-side connections and load cables. This UL-approved innovation increases personnel safety by eliminating the need to use hazardous temporary grounding devices.
Now available, the integrated grounding device:
Quickly and easily grounds all load-side connections, including the load cables

Removes the need to use cumbersome and hazardous utility-style grounding balls and temporary grounding cable assemblies

Grounds the output (load-side connections) without opening the MCC power cell door 

Seamlessly incorporates in the MCC power cells
The device provides a new level of customer safety in demanding manufacturing, processing, and production environments. Plus, it's available in CENTERLINE motor control centers with ArcShield™ arc-resistant controller designs.
Provides arc vent on the cabinet roof, to safely exhaust arc flash energy overhead (meeting IEEE C37.20.7, Type 2B)

Includes three isolated compartments: power bus, low voltage, and power cell

Provides reinforced large swing-out low voltage panel sealed to prevent entry of arc flash material

Offers Type 2B accessibility

Includes isolation switch with visible indication that the power cell is not energized

Includes CENTERLINE® horizontal power bus with removable cover plates for accessibility

Provides reinforced cabinet and power cell doors, including a robust power cell door closure mechanism to contain arc flash material at faults up to 40 kA, 0.5 seconds
CENTERLINE 1500 with ArcShield Technology
Helps to reduce arc flash hazards

Provides increased protection against internal electrical arcing faults

Provides arc resistance to 40 kA or 50 kA per C37.20.7
CENTERLINE 1500 with IntelliCENTER Technology
Provides remote access to data to minimize the need to approach the MCC

Uses EtherNet/IP networks to provide enhanced integration between the plant floor and corporate operations
Certifications
ANSI

IEEE

NEC

OSHA

IEEE 519-2004

IEEE C37.20.7, Type 2B

NEMA

UL

European Directives for Safety and EMC
Certifications apply when product is marked. See our Product Certification site for Declarations of Conformity, certificates and other certification details. 
| Resource | Publication Number | Language |
| --- | --- | --- |
| CENTERLINE 1500 Motor Control Centers Brochure | 1500-BR003 | |
| Medium Voltage Controllers Selection Guide | 1500-SG001 | |
| CENTERLINE 1500 Motor Control Center with IntelliCENTER Technology Using an EtherNet/IP Network | 1500-TD001 | |
| Typical Factory Test Procedures for Medium Voltage Products Technical Data | 1500-TD220 | |
| Adding Layers of Personnel Safety to UL 347 Motor Control Centers White Paper | MCC-WP003 | |
| DeviceNet MV Controllers Installation Instructions | 1500-IN057 | |
| Medium Voltage Motor Controllers Specification Guide | 1500-SR020 | |
| Medium Voltage Controllers, 400A One-High Cabinet, Standard and Arc-Resistant Enclosure User Manual | 1512A-UM100 | |
| CENTERLINE 600 A One-High Cabinet, Standard and Arc-Resistant Enclosure User Manual | 1512A-UM101 | |
| Medium Voltage Controllers Bulletin 1512A 800 A One-High Cabinet Standard and Arc Resistant Enclosure | 1512A-UM102 | |
| Medium Voltage Controllers, 200/400A Two-High Cabinet, Standard and Arc-Resistant Enclosures User Manual | 1500-UM055 | |
| SyncPro IIB Brush-type Synchronous Motor Field Application and Protection System User Manual | 1902-UM001 | |
| CENTERLINE 1500 Medium Voltage MCCs Procurement Specifications | 1500E-SR001 | |
| Virtual Factory Acceptance Testing | MCC-SP005 | |