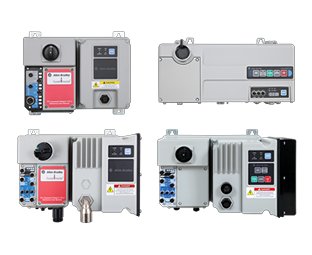 Offers EtherNet/IP™ or DeviceNet™ communication capabilities and Embedded Switch Technology

Offers local disconnecting means, embedded field I/O, and local logic that uses DeviceLogix® software

Offers LED status and diagnostic indication

Includes a hardened, wash-down rating with the ability to mount the device near the motor or machine, which provides shorter cable runs

Allows the ability to choose factory installed options for specific applications

Is suitable for group installations with high short circuit current rating

Available for use with round quick connect power media or fixed pipe and wire
Product Comparison
 

ArmorStart LT

ArmorStart ST

Models

290, 291, 294

281, 284

Starter Power Range

0.37...2.2 kW

0.37...7.5 kW

VFD Power Range

0.37...1.5 kW

0.75...3.3 kW

VFD Control

V/HZ

SVC

High Fault SCCR

up to 10 kA

up to 65 kA

Network

EtherNet/IP and/or
DeviceNet

EtherNet/IP

Logix AOP Configuration

X

X

DeviceLogix

X

X

Auto-device Configuration

X

X*

Dual-port Ethernet Switch

X

X

Hardwired Safety Option

 

X

Embedded Safety I/O Integrated Safety

 

X*

Embedded IO

6 configurable

4 in/2 out

ArmorConnect® Compatible

X

X

UL Group Motor Listed

X

X

Enclosure Rating

IP66/Type 4/12

IP67/Type 4/13

Construction

Single Box

Two Box

*Integrated safety version only

 
 
Learn more about the ArmorConnect® media options through the following overview videos:

Auxiliary Power Media

Control Power Media

Three-phase Power Media

Industrial Ethernet Media

Motor and I/O Cabling System
Watch and learn more about the benefits of our On-Machine™ design philosophy.
See if the ArmorStart Distributed Motor Controller is the right fit for your application.
The ArmorStart Virtual Demo explains the benefits of the ArmorStart® Distributed Motor Controller family, including:

Product positioning within the product family

Potential savings when using the On-Machine solution

DeviceNet™ and EtherNet/IP™ network solutions
Protect your people, productivity, and environment with our Safety Components and integrated Safety Solutions. We understand your factory floor challenges and can help you meet your goals with one of the broadest safety portfolios in the industry.
Certifications
Note: Certifications and standards vary by ArmorStart Distributed Motor Controller type. See the listed specification publications for details.
cULus — File No. E477761; Guide Nos. NLDX, NLDX7
cULus — File No. E59272; Guide Nos. NMMS, NMMS7
Standards Compliance
CCC
CE Marked per Low Voltage Directive 2006/95/EC and EMC Directive 2004/108/EC
CSA C22.2, No. 14
C-Tick
EN/IEC 50178
EN/IEC 60947-4
EN/IEC 60947-4-1
EN/IEC 60947-4-2
EN/IEC 61800-3
EN/IEC 61800-5-1
ODVA for EtherNet/IP and DeviceNet
UL 508
UL 508C
TÜV
| Resource | Publication Number | Language |
| --- | --- | --- |
| ArmorStart Distributed Motor Control Solutions Brochure | 280-BR001 | |
| ArmorStart Distributed Motor Controllers Selection Guide | 280-SG002 | |
| ArmorConnect Power and Control Media Selection Guide | 280PWR-SG001 | |
| ArmorStart ST Distributed Motor Controller Specifications | 280ES-TD001 | |
| ArmorStart LT Distributed Motor Controller Specifications Technical Data | 290-TD001 | |
| ArmorStart and ArmorStart LT Connectivity Quick Reference Guide | 280-CL002 | |
| ArmorStart Connection System Quick Reference Guide Collection | 280-CL003 | |
| ArmorStart and ArmorStart ST Connectivity Quick Reference Guide Collection | 280ES-CL001 | |
| Group Installation Listing Requirements for Drives and Contactor-based Motor Controllers | 280-WP001 | |
| Bulletin 280, 281, 283, 284 ArmorStart User Manual | 280-UM002 | |
| Bulletin 280D, 281D, 284D ArmorStart Safety User Manual | 280-UM004 | |
| Bulletin 280E, 281E, 284E ArmorStart with EtherNet/IP User Manual | 280E-UM001 | |
| Bulletin 280ES ArmorStart ST Motor Controller User Manual | 280ES-UM001 | |
| ArmorStart ST Motor Controller with Integrated Safety User Manual | 280ES-UM002 | |
| Bulletin 290E, 291E, 294E ArmorStart LT Distributed Motor Controller with DeviceNet User Manual | 290D-UM001 | |
| Bulletin 290E, 291E, 294E ArmorStart LT with EtherNet/IP User Manual | 290E-UM001 | |
| Applying More Than One ArmorStart Motor Controller in a Single Application Guide | 280-AT003 | |