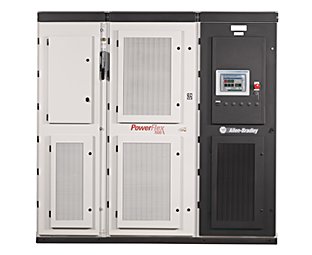 Our PowerFlex® 7000 Medium Voltage AC Drives are air-cooled or liquid-cooled drives that are available in a broad power range of 200…34000 Hp and supply voltages of 2400…6600V AC. These general-purpose, stand-alone drives control speed, torque, direction, starting, and stopping of standard asynchronous or synchronous AC motors.
Broad range of 200…34,000 Hp (150…25,400 kW)

Offers optional digital sensorless control, direct vector control or full vector control with tachometer feedback

Provides DPI™ communication interface

Offers optional interfaces for RI/O DeviceNet™, ControlNet™, Ethernet, Profibus, Modbus©, Modbus Plus, Interbus™, LonWorks®, CanOpen, RS485 HVAC, RS485 DF1, RS232 DF1, RS232 C

Includes integral multi-language operator interface terminal

Offers Direct-to-Drive™, AFE rectifier, and 18-pulse rectifier configuration

Provides soft starting and variable speed control for high-power applications

Delivers virtually perfect current and voltage waveforms, allowing use of standard motors

Includes PowerCage™ inverter and rectifier modules which allow SGCT replacement in under ten minutes

Configuration and programming via integral LCD keypad, DriveTools™ SP software, or Drive Explorer™ software

Offers Premier Integration with PowerFlex® AC drives, which uses the Logix control platform to simplify parameter and tag programming and reduces development time

Reduces arc flash hazards with ArcShield™ technology
Air-cooled 200…8000 Hp drives
200…5500 Hp

Simple but rugged, minimum component count, optimum reliability
Liquid-cooled drives
3000…8500 Hp

Drastically reduces control room air conditioning costs by removing 90% of the heat via a heat exchanger

Supports higher elevations and ambient temperatures than air-cooled drives
Extended Hp Drives
Up to 34,000 Hp

Modular system lets you add drives—up to four drive modules in one system—until the drive power matches the application requirements

Suitable for hot back-up applications with an option for control redundancy

Uses a hub module and ControlLogix™ processors to coordinate the modular drive system
Certifications
ANSI
IEC
IEEE
NEMA
UL
Certifications apply when product is marked. See our Product Certification site for Declarations of Conformity, certificates and other certification details. 
You can use the following software to program your drives.
| Resource | Publication Number | Language |
| --- | --- | --- |
| PowerFlex Medium Voltage AC Drives Brochure | PFLEX-BR010 | |
| PowerFlex 7000 Medium Voltage Drives Safety Brochure | 7000-BR002 | |
| PowerFlex 7000 Drive System with ArcShield Technology Product Profile | 7000-PP004 | |
| PowerFlex Medium Voltage AC Drives Selection Guide | PFLEX-SG003 | |
| PowerFlex 7000 Medium Voltage AC Drive Parameter Manual | 7000A-TD002 | |
| PowerFlex 7000 Medium Voltage AC Drives Technical Data | 7000-TD010 | |
| PowerFlex 7000 Medium Voltage AC Drive Air-Cooled ('A' Frame)—ForGe Control User Manual | 7000A-UM200 | |
| PowerFlex 7000 AC Drive B Frame User Manual | 7000-UM202 | |
| PowerFlex 7000 Medium Voltage AC Drive Liquid-Cooled ('C' Frame)—ForGe Control User Manual | 7000L-UM303 | |
| PowerFlex 7000 Medium Voltage AC Drives Troubleshooting Guide | 7000-TG002 | |
| PowerFlex 7000 AC Drive B Frame Installation Instructions | 7000-IN007 | |
| PowerFlex 7000 AC Drive Transportation and Handling Procedures | 7000-IN008 | |
| Reducing Arc Flash Hazards and Minimizing Risk | SAFETY-WP015 | |
| Virtual Factory Acceptance Testing | MCC-SP005 | |