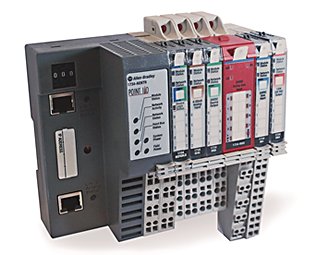 Durch den modularen Aufbau können Sie die E/A, Abschlussart und Netzwerkschnittstelle unabhängig voneinander auswählen.

Die Module werden einfach zusammengesteckt und zu Wartungszwecken wieder problemlos getrennt.

Das abnehmbare Verdrahtungssystem spart bei der Installation sowie bei der Fehlerbehebung Zeit und Geld.

POINT I/O™ ist dank umfassender Diagnosefunktionen und konfigurierbarer Leistungsmerkmale einfach einzusetzen

Durch Ziehen/Stecken unter Spannung können Module ausgetauscht werden, während das System in Betrieb ist.

Die Montage ist horizontal oder vertikal möglich, eine Unterlastung ist nicht nötig.

ADR (Geräteaustausch ohne Neukonfiguration) reduziert Ausfallzeiten.

Add-On-Profile für die Anwendung Studio 5000 Logix Designer® ermöglichen die nahtlose Integration in Integrated Architecture-Systeme.

Mit Schutzbeschichtungen erhältlich
1734 POINT I/O-Digitalmodule
Eingangs-, Ausgangs- und Relais-Ausgangsmodule

Große Spannungsbreite

Ausgangsfehlerzustände auf Punktebene zur Diagnose von Kurzschlüssen und getrennten Leitungen

Felddiagnose bei ausgewählten Modulen

Direkte oder Rack-optimierte Verbindungen

POINT Guard I/O™-Module für Sicherheitsanwendungen

Konfigurierbare Module

Jeder Punkt lässt sich als DC-Stromeingang oder -ausgang konfigurieren.

Verfügbar mit DeviceLogix™-Technologie
1734 POINT I/O-Analogmodule
Bis zu acht Single-Ended-Eingänge oder -Ausgänge pro Modul

Thermoelement- und RTD-Module verfügbar

Individuell konfigurierbare Kanäle

Integrierte Skalierung

Wählbare Eingangsfilter

Erkennung von Bereichsüberschreitung und -unterschreitung
1734 POINT I/O-Spezialmodule
Zähler- und Encoder-Module

Absolut-Encoder-Modul mit synchroner serieller Schnittstelle

Serielle Schnittstellenmodule (RS-232, RS-485/RS-422)

Adressreservemodul (ARM)

Unterstützt Verbindung eines IO-Link-fähigen Geräts mit einem IO-Link-Master-Modul
Zusätzliche Informationen
Unsere intelligente DeviceLogix-Komponententechnologie integriert Lösungsfunktionen in die E/A, Motorstarter, Drucktasten und andere Steuerungskomponenten und ermöglicht so eine dezentrale Steuerung mit höherer Leistung und zu geringeren Kosten.
Schützen Sie Mitarbeiter, Produktivität und Umwelt mit unseren integrierten Sicherheitslösungen. Wir verstehen Ihre Herausforderungen im Fertigungsbereich und wissen, wie wir Ihnen mit einer der umfangreichsten Paletten an Sicherheitsprodukten der Branche beim Erreichen Ihrer Ziele helfen können.
Unsere Integrated Architecture-Lösungen stellen die Basis für werksweite effiziente und effektive Optimierungen dar und ermöglichen Ihnen so, wettbewerbsfähig zu bleiben sowie auf die wirtschaftlichen Anforderungen und Änderungen der Nachfrage in der Konsumgüterindustrie zu reagieren.
Unser PartnerNetwork™ bietet komplementäre Produktlösungen für 1734 Point I/O-Module und 1734 POINT I/O-Add-On-Profile über das Encompass-Produktreferenzprogramm an. Sie können Produkte von branchenführenden Anbietern in Ihrer Region für Verbindungen mit der Rockwell Automation®-Architektur oder zur Verwendung mit anderen Produkten sortieren und filtern.

The Connected Enterprise® – mit IO-Link-Sensoren: Wie IO-Link-Sensoren intelligente Maschinen für The Connected Enterprise® ermöglichen.

Dank der IO-Link-Technologie können Sensoren, die mit einem IO-Link-Master-Modul verbunden sind, detaillierte Informationen zu Diagnose und Maschinenzustand bereitstellen, um die Betriebszeit zu verbessern und die Produktivität zu steigern.
| Resource | Publication Number | Language |
| --- | --- | --- |
| Produktprofil POINT I/O | 1734-PP001 | |
| Auswahlanleitung POINT I/O | 1734-SG001 | |
| Anwendungsanleitung für integrierte EtherNet/IP-Embedded-Switch-Technologie | ENET-AP005 | |
| Installationsanleitung POINT I/O IO-Link-Master-Modul mit 4 Kanälen | 1734-IN043 | |
| Installationsanleitung POINT I/O | 1734-IN510 | |
| Benutzerhandbuch POINT I/O-Digital-, -Analog- und POINTBlock-E/A-Module | 1734-UM001 | |
| Benutzerhandbuch für Hochgeschwindigkeitszählermodul | 1734-UM003 | |
| Benutzerhandbuch für Thermoelement- und RTD-Eingangsmodul | 1734-UM004 | |
| Benutzerhandbuch POINT I/O-Encoder– und Zählermodule | 1734-UM006 | |
| Benutzerhandbuch POINT I/O-Absolut-Encodermodul mit synchroner serieller Schnittstelle | 1734-UM007 | |
| Benutzerhandbuch POINT I/O-ASCII-Module | 1734-UM009 | |
| Benutzerhandbuch POINT I/O und ArmorPOINT I/O DeviceLogix | 1734-UM015 | |
| Benutzerhandbuch POINT I/O IO-Link-Master-Modul mit 8 Kanälen | 1734-UM020 | |
| Kurzanleitung für integrierte Smart-Sensor-Lösung | IOLINK-SP001 | |