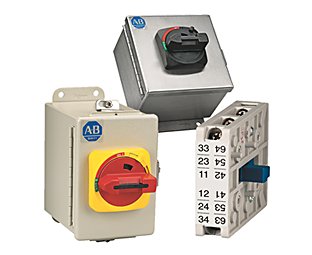 Our Bulletin 194E Load Switches are designed for use as local motor isolation and disconnect switch applications. Our switches are available in 3- and 6-pole versions with add-on additional poles, grounding and neutral terminals and auxiliary contacts. These switches share the same operating handles as the Bulletin 194L Control and Load Switches.
Geeignet als Trennschalter am Motor gemäß UL508
Schalter für induktive Belastungen mit 16, 25, 32, 40, 63, 80 und 100 A
Schaltergriffe (IP66, UL Typ 1/3/3R/12)
Berührungssichere Klemmen nach IP2LX
3- und 6-polige Ausführungen, zusätzliche Pole an Zubehörteilen ergeben 4-, 5-, 7- und 8-polige Einheiten
Konfigurationen für Vordertür- oder DIN-/Sockelmontage
Verfügbar in EIN/AUS- und Umschalterkonfigurationen
3- und 6-polige Schalter mit Gehäuse
Optionale thermoplastische Gehäuse
Betätigung mit zwangsgeführten Kontakten
Verschließbare Anfasser verfügbar (mit bis zu 3 Schlössern)
Certifications
CE Marked for all applicable directives

CSA Certified (LR 13908)

IEC

UL Listed (File No. E54612, Guide NLRV)

Suitable for use with IE3 Motors (IEC 60034-30)
Certifications apply when product is marked. See our Product Certification site for Declarations of Conformity, certificates and other certification details.