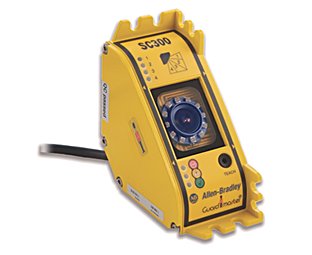 Our Guardmaster™ SC300 Hand Detection Safety Sensor is a compact safety sensor system which operates based on image processing technology. The safety sensing function is performed by a single image sensing device viewing a single two-dimensional image against a passive pattern as the background. The detection principle is based on an object of a certain resolution blocking the view of the pattern from the image-sensing device.
Provides compact die-cast aluminum housing that can be mounted on the inside of OR on the side of a frame
Provides angular field of view of 110°
Offers automatic alignment
Lets you double the maximum opening dimension by installing two SC300 safety cameras back to back with synchronization inputs connected
Does not require software to program the monitored opening area
Additional Information
Protect your people, productivity, and environment with our Safety Components and integrated Safety Solutions. We understand your factory floor challenges and can help you meet your goals with one of the broadest safety portfolios in the industry.
Certifications
CE Marked for all applicable directives
cULus

IFA 
Safety Classification 
Category 3 EN ISO 13849-1
Type 3 DIN EN61496-1
SIL 2 IEC 61508
SIL CL2 EN 62061
PLd EN ISO 13849-1 
Functional Safety Data
PFHD =< 3.2 x10-9
Mission Time (TM) = 20 years (EN ISO 13849)
Suitable for Performance Level PLd (according to ISO 13849-1:2006) and for use in SIL 2 systems (according to IEC 62061)
Standards Compliance
DIN EN 61496-1: 2009-03
IEC/TR 61496-4: 2007-07
DIN EN 61508:2002/2003
DIN EN ISO 13849-1: 2008-12